Program Overview
Every organization needs strong leaders at the helm. Are you ready to take on the challenge? Management jobs are expected to grow 8 percent over the next several years, according to the US Bureau of Labor Statistics. A master's degree in management will provide a strong foundation for your professional future.
Our Management Master's Degree Program provides a well-rounded curriculum that covers a variety of essential topics. Explore economic theory, corporate responsibility, and business communications with expert faculty. You'll gain insight into the latest management theories and practices through case studies, group projects, and active learning experiences.
Program Benefits
Customizable path, stackable certificates, & experiential learning

Instructors who are academics and industry professionals at the top of their fields

Personalized academic & career advising

Entrepreneurial opportunities through the Harvard Innovation Labs

Paid research options

Harvard Alumni Association membership upon graduation
Customizable Course Curriculum
Our curriculum is flexible in pace and customizable by design. You can study part time, choosing courses that fit your schedule and align with your career goals. In the program, you'll experience the convenience of online learning and the immersive benefits of learning in person.
As you work your way through the program's core courses, you'll deepen your knowledge of essential management concepts, tools, and strategies. Then, you'll build on that foundation by selecting elective courses to tailor your experience, focusing on the areas that are most important to you.
11 Online Courses
Synchronous and asynchronous
Fall, spring, January, and summer options
On-Campus Experience
You'll complete 1 degree requirement in person at Harvard, at an accelerated or standard pace:
2 weekends in fall or spring
3 weeks in the summer
Admissions
The path to your degree begins before you apply to the program.
You first register for and complete 3 degree courses, earning at least a B in each. These foundational courses are investments in your studies. They count toward your degree and help ensure success in the program.
As an alternative, you may choose to earn one of the following credentials as part of your admissions path: HBS Online CORe Admissions Pathway or the MITx MicroMasters® Program Pathway.
Getting Started
We invite you to explore degree requirements, confirm your initial eligibility, and learn more about our unique "earn your way in" admissions process.
Earning a Stackable Certificate
As you work your way toward your master's degree, you can take courses that also count — or "stack" — toward a graduate or micocertificate. It's a cost-effective, time-saving opportunity to build specialized skills and earn more professional credentials.
Stackable certificates in 12 different business fields are available. For each certificate, you can choose courses that best fit your goals.
Here are just a few examples of stackable certificates.
Corporate Sustainability and Innovation
Gain the skills you need to help your organization adopt sustainable practices with this graduate certificate.
Sample stackable courses:
Applied Corporate Responsibility
Sustainable Marketing and Branding
Breakthrough Innovation with Blockchain Technology
Foundations of Sustainable Development
Organizational Behavior
Develop a deeper understanding of human behavior in an organizational setting with this graduate certificate.
Sample stackable courses:
Negotiation and Organizational Conflict Resolution
Managing Yourself and Leading Others
Gender, Leadership, and Management
Leading Through Change
Marketing Management and Digital Strategy
Gain the tools and techniques you need to engage audiences and inspire action in today's complex multichannel landscape with this graduate certificate.
Sample stackable courses:
Marketing Analytics: Fundamental Data-Driven Marketing
Digital Marketing: Foundations and Framework for Success
Strategic Brand Marketing
International Marketing
Applied Fintech & Digital Assets
Explore the rapidly evolving field of fintech, and learn how financial technology can better meet the needs of financial consumers in this microcertificate.
Courses
MGMT 2765 Advising on Financial Technologies (Fall 2 & Spring 1)
MGMT 2760 Financial Technology (Fall 1 & Spring 2)
Project Management Methodologies
Learn techniques, methodologies, and frameworks to lead a complex project management process from beginning to end.
Courses
Required: MGMT 5030 Project Management (Fall, Spring, & January)
Choose 1 from 2 options:
MGMT 5044 Product Development with Scrum (Fall 2 & Spring 1)
MGMT 5042 Agile Project Management (Fall & Spring)
Wellbeing at Work
Motivated and engaged employees are more likely to contribute to a positive workplace culture and increase overall effectiveness.
Courses
MGMT 4520 The Science of Happiness and Wellbeing (Fall 1)
MGMT 4500 Work and Wellbeing (Spring)
A Faculty of Management Experts
Studying at Harvard Extension School means learning from the world's best. Our instructors are renowned experts in management practices, organizational behavior, finance, marketing, and more — and bring a genuine passion for teaching, with students giving our faculty an average rating of 4.6 out of 5.
Our Community at a Glance
Join a network of talented peers who are committed to building innovative, creative, and diverse workplaces.
Averaging 12 years of work experience, our management students are established professionals looking to deepen their expertise, discover new tools and strategies, and expand their networks.
In the Management Master's Degree Program, you'll learn alongside career-driven leaders from around the world who bring diverse knowledge and points of view into class discussions and projects.
35

Average Age

1-2

Course Taken Each Semester

89%

Work Full Time

99%

Would Recommend the Program

76%

Professional Experience in the Field

Most

Pursued for Career Advancement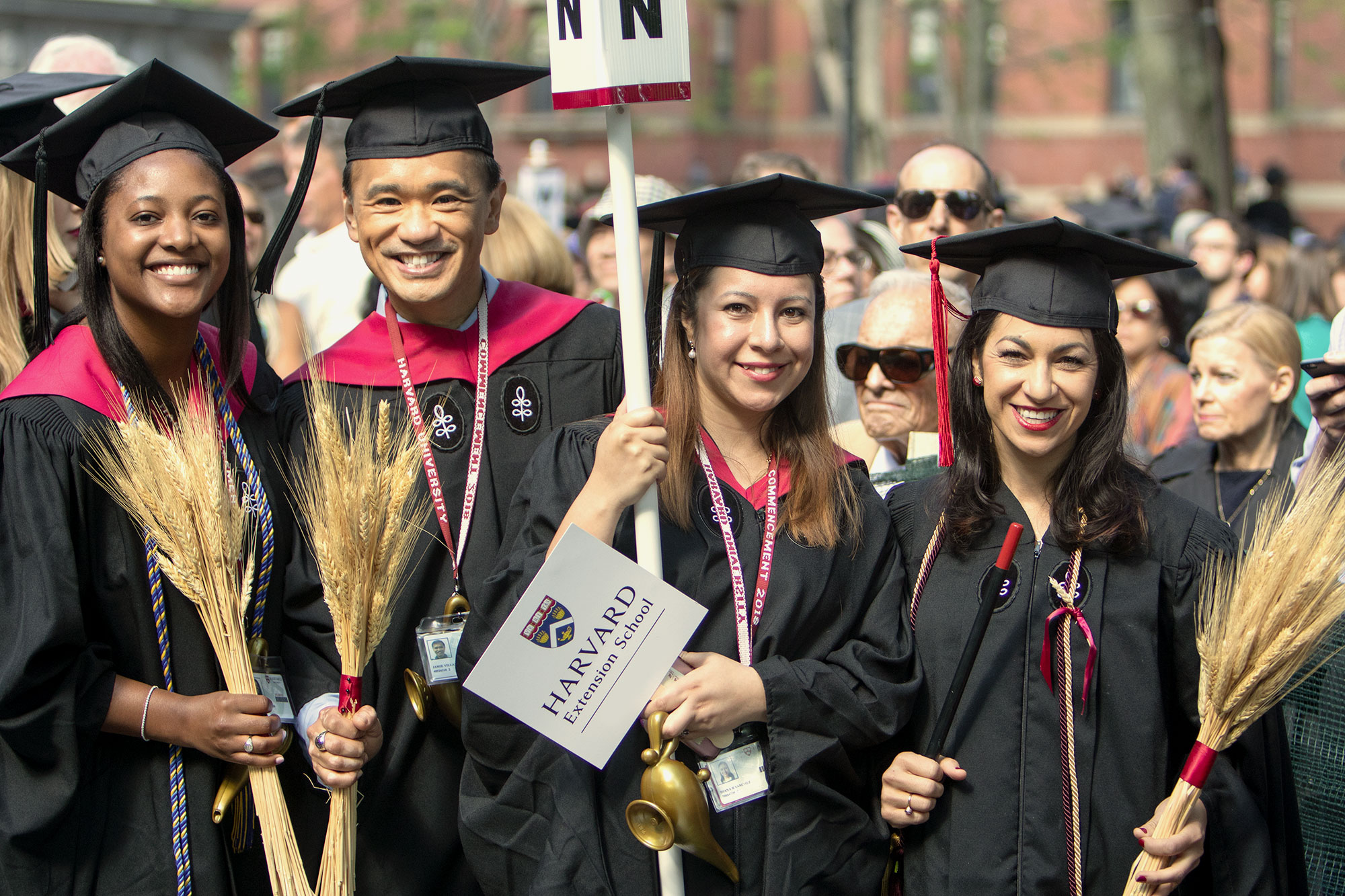 Careers & Alumni Outcomes
Our management graduates work in a range of industries, including banking, consumer goods, financial services, energy, nonprofit management, and management consulting. They have also gone on to pursue further studies at such schools as Columbia University, Georgetown University, and Harvard Kennedy School.
Roles held by recent graduates include: 
Account Director
Director of Asset Management
Brand Manager
Business Development Director
Senior R&D Manager
Director of Diversity and Inclusion
Senior Manager, Data and Analytics
Alumni work at a variety of organizations, including:
Accenture
Apple
Cisco
Ernst & Young
Fannie Mae
Intel
Pearson
World Economic Forum
Career Advising and Mentorship
Whatever your career goals, we're here to support you. Harvard's Mignone Center for Career Success offers career advising, employment opportunities, Harvard alumni mentor connections, and career fairs like the annual Business and Consulting Fair and Harvard Startup Career Fair.
Your Harvard University Degree
Upon successful completion of the required curriculum, you will receive a Master of Liberal Arts (ALM) in Extension Studies, Field: Management.
Expand Your Connections: the Harvard Alumni Network
As a graduate, you'll become a member of the worldwide Harvard Alumni Association (400,000+ members) and Harvard Extension Alumni Association (29,000+ members).
Cost and Financial Aid
Affordability is core to our mission. When compared to our continuing education peers, it's a fraction of the cost.
| | |
| --- | --- |
| Our Tuition (2023–24 rate) | $3,220 per course |
| Average Tuition of Peer Institutions | $4,330 per course |
| Average Total Cost | $38,640 |
After admission, you may qualify for financial aid. Typically, eligible students receive grant funds to cover a portion of tuition costs each term, in addition to federal financial aid options.
FAQs
What is the difference between a management master's degree and an MBA?
These two master's programs differ primarily in program length, price, cohort structure, and flexibility/accessibility. Our management master's degree program offers many, if not all, of the same topics you would find in a traditional MBA program. However, we require fewer courses, a more flexible curriculum and schedule, as well as a much more affordable price tag.
To learn more about the difference from our program director, Laura Wilcox, read Master's in Management vs. MBA?
How long does it take to complete the management graduate program?
Program length is ordinarily anywhere between 2 and 5 years. It depends on your preferred pace and the number of courses you want to take each semester.
For an accelerated journey, we offer year round study, where you can take courses in fall, January, spring, and summer.
While we don't require you to register for a certain number of courses each semester, you cannot take longer than 5 years to complete the degree.
What skills do you need prior to applying for the management master's degree program?
There are no prerequisite skills required for admission to the management program. Most of our students come to us with more than 5 years of professional experience, and 75% have professional experience in management. If you complete the courses for admissions successfully and meet additional eligibility requirements, you will be admitted.
What can you do with a master's degree in management?
Earning a master's degree in management can prepare you for a range of career opportunities across diverse industries. Some of the common career paths include management consultant, human resource manager, operations manager, financial analyst, and entrepreneur.