Program Overview
More organizations around the globe — corporate, nonprofit, governmental, and consulting — are committing to climate action. And they are seeking practitioners with the specialized knowledge needed to overcome environmental challenges and implement more sustainable practices.
In our Sustainability Graduate Program, you'll build the expertise you need to take on such critical roles. Through engaging coursework and either a thesis or capstone, you'll:
Learn to develop innovative, practical, and equitable solutions to the challenges posed by climate change and environmental harm.
Cultivate an understanding of the science, policies, technologies, and financial models that support sustainable development.
Gain confidence in your analytical research and build leadership skills that serve you in a corporate or grassroots context.
Program Benefits
Customizable path, stackable certificates, and experiential learning

Entrepreneurial opportunities through the Harvard Innovation Labs

Personalized academic and career advising

Optional faculty research and internship opportunities

Student community through the Harvard Extension Student Environmental Club

Harvard Alumni Association membership upon graduation
Customizable Course Curriculum
The 12-course Sustainability Graduate Program is designed to help you develop practical skills that you can apply immediately in your career. You'll experience the convenience of online learning and the immersive benefits of learning in person.
Our core courses focus on learning research methodologies and building sustainability-specific skill sets around development, design, and management, for example.
Our comprehensive selection of electives enables you to tailor your program to your personal or industry-specific interests such as natural disasters, water usage and conservation, and energy projects. Your thesis or capstone project will give you the opportunity to apply these skills to a real-world problem.
11 Online Courses
Primarily asynchronous
In the fall, spring, January, and summer
On-Campus Experience
You'll complete 1 course in person at Harvard, at either an accelerated or standard pace:
An online course with an intensive weekend on campus in fall or spring (capstone track only)
3 weeks in a summer or January session
Capstone or Thesis Track
Thesis: features a 9-month independent research project with a faculty advisor
Capstone: includes crafting a consulting or independent research project in a classroom community
Admissions
The path to your degree begins before you apply to the program.
First, you'll register for and complete 2 required courses, earning at least a B in each. These foundational courses are investments in your studies and count toward your degree, helping ensure success in the program.
Getting Started
We invite you to explore degree requirements, confirm your initial eligibility, and learn more about our unique "earn your way in" admissions process.
Earn a Stackable Certificate
As you work your way toward your master's degree, you can take courses that also count — or "stack" — toward a graduate or micocertificate. It's a cost-effective, time-saving opportunity to build specialized skills and earn more professional credentials.
For each certificate, you can choose courses that best fit your goals.
Here are a few examples of stackable certificates and courses.
Corporate Sustainability and Innovation
Gain the skills you need to help your organization adopt sustainable practices with this graduate certificate.
Sample stackable courses:
Applied Corporate Responsibility
Sustainable Marketing and Branding
Breakthrough Innovation with Blockchain Technology
Foundations of Sustainable Development
Environmental Policy and International Development
Deepen your knowledge of pressing global issues like climate change, resource scarcity, and population growth through this graduate certificate.
Sample stackable courses:
Making Change Happen: Sustainable Development in Theory and in Practice
Urban Development Policy
Design of Renewable Energy Projects
Confronting Climate Change
Natural Resource Management and Sustainable Ecosystems
Explore the impacts of population growth and climate change on food supply, resources, and land in this graduate certificate.
Sample stackable courses:
Human Impact and the Marine Environment
Environmental Economics: Perspectives on Climate Change
Local to Global Agroecology
Fundamentals of Ecology for Sustainable Ecosystems
Sustainable Cities and Communities
Build the skills necessary to help cities and communities design, develop, and maintain more sustainable systems with this graduate certificate.
Sample stackable courses:
Evolution of the American City: Civic Aspirations and Urban Form
Urban Agriculture
Renewable Energy Mini-Grids for Rural Community Development
Sustainable Cities
Sustainable Food Systems
Prepare yourself to address present and future challenges of food sustainability with this graduate certificate.
Sample stackable courses:
Chocolate, Culture, and the Politics of Food
The Role of Soil Health in Creating Sustainable Food Systems
The Food System: Environment, Health, and Ethics
Food and Nutrition in Health and Well-Being
Circular Economics
Gain insight into the viability of circular economics as a solution to the issues created by natural resource depletion.
Courses
ENVR E-158B Applied Circular Economics (Fall)
ENVR E-158F Regenerative Economics (Spring)
Life Cycle Assessment
Explore the increasingly important role that life cycle assessment plays in sustainable production and manufacturing.
Courses
Required: ENVR E-151 Life Cycle and Supply Chain Sustainability Assessment (Fall)
Choose 1 from 4 options:
ENVR E-107 Minerals and Natural Resources (Fall)
ENVR E-119D Decarbonizing the Building Sector (Spring)
ENVR E-137 Sustainable Manufacturing and Technologies (Spring)
ENVR E 158C Toxics in Consumer Products (Spring)
Regenerative Agriculture
Learn about a more sustainable approach to farming and grazing animals that improves soil health, combats climate change, and improves the nutritional quality of food.
Courses
ENVR E-129A Local to Global Agroecology (Fall)
ENVR E-129C The Role of Soil Health in Creating Sustainable Food Systems (Spring)
Sustainable Finance
Delve into how environmental, social, and governance (ESG) factors are increasingly impacting financial decisions and gain the knowledge of key sustainability concepts and the skill to integrate them into financial decision-making.
Courses
ENVR E-235 Fundamentals of Sustainable Investing (Fall)
ENVR E-138A Sustainable Investing in Practice (Spring)
A Faculty of Sustainability Experts
Studying at Harvard Extension School means learning from the world's best. Our instructors are renowned experts in renewable energy, sustainable communities, economics, decarbonization, and more. They bring a genuine passion for teaching, with students giving our faculty an average rating of 4.5 out of 5.
Our Community at a Glance
Our students in the Sustainability Master's Degree Program are established professionals looking to deepen their expertise and advance their careers. Half (50%) have professional experience in the field and all work across a variety of industries—including non-profit management, consumer goods, communications, pharmaceuticals, and utilities.
37

Average age

1

Course Taken Each Semester

77%

Work Full Time

98%

Would Recommend the Program

48%

Professional Experience in the Field

Most

Pursued for Career Change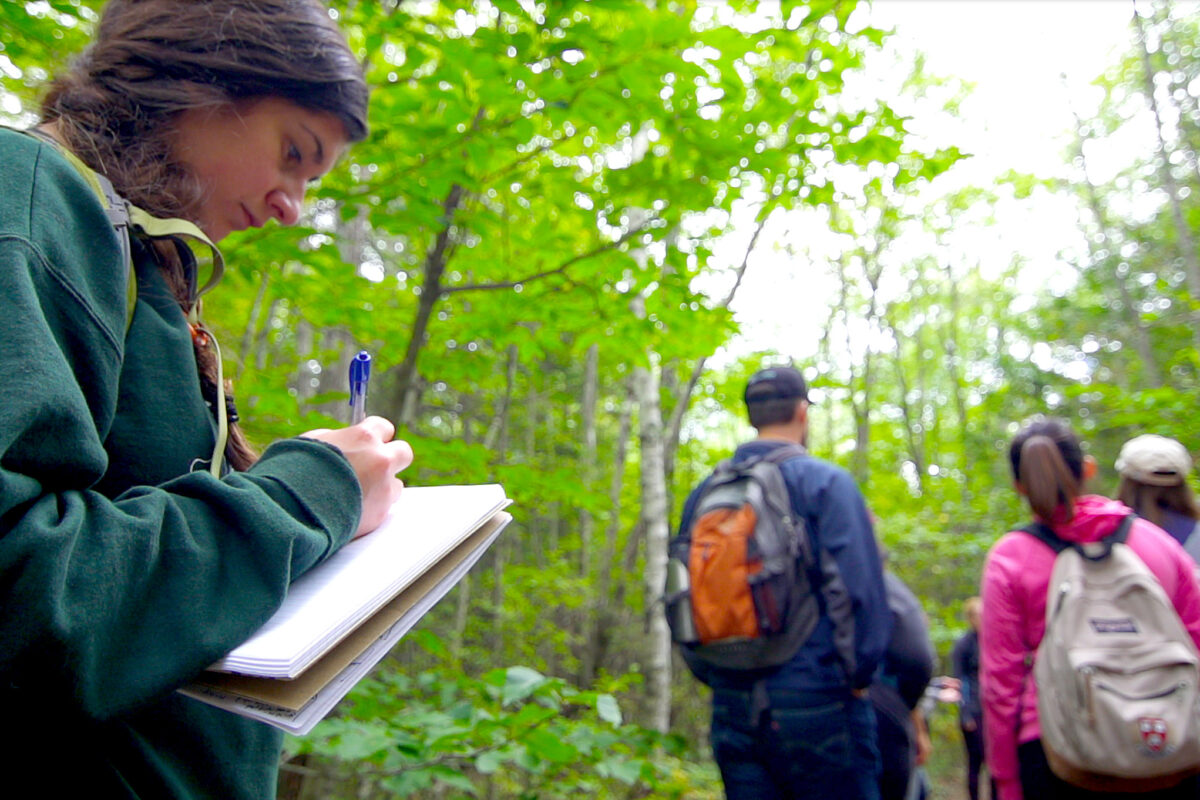 Career Opportunities & Alumni Outcomes
Graduates of our Sustainability Master's Program work in the fields of transportation, hospitality, renewables, public policy, biotechnology, civil engineering, venture capital, and more.
Some alumni continue their educational journeys and pursue further studies in other nationally ranked degree programs, including those at the University of Birmingham, New York University, University of Edinburgh, Georgetown University, Bar-llan University, University of Zurich, Tufts University, Cornell University, and Harvard University's T.H. Chan School of Public Health.
Our alumni hold such titles as:
Senior Manager of Corporate Sustainability (Fortune 100 Corporation)
Advocate for Clean Energy Transmission (US Government Agency)
Consultant of Climate & Sustainability (International NGO)
International Climate Researcher (International Consulting Firm)
Program Director of Land Management (US-based NGO)
Communications Director of Energy and Environment (International News Agency)
CEO/Founder of Sustainable Investments Start-up
Owner of Real Estate Development Firm
Our alumni work at a variety of leading organizations, including:
Aetna
Bank of America
FedEx
GE
The Nature Conservancy
Trip Advisor
United Nations
Career Advising and Mentorship
Whatever your career goals, we're here to support you. Harvard's Mignone Center for Career Success offers career advising, employment opportunities, Harvard alumni mentor connections, and career fairs like the online All Ivy Environmental and Sustainable Development Career Fair.
Your Harvard University Degree
Upon successful completion of the required curriculum, you will earn the Master of Liberal Arts (ALM) in Extension Studies, Field: Sustainability.
Expand Your Connections: the Harvard Alumni Network
As a graduate, you'll become a member of the worldwide Harvard Alumni Association (400,000+ members) and Harvard Extension Alumni Association (29,000+ members).
Tuition & Financial Aid
Affordability is core to our mission. When compared to our continuing education peers, it's a fraction of the cost.
| | |
| --- | --- |
| Our Tuition (2023–24 rate) | $3,220 per course |
| Average Tuition of Peer Institutions | $4,330 per course |
| Average Total Cost | $38,640 |
After admission, you may qualify for financial aid. Typically, eligible students receive grant funds to cover a portion of tuition costs each term, in addition to federal financial aid options.
Program Information Session (On Demand)
Hear from staff, students, and alumni in our informational webinar about the Sustainability and Global Development Practice programs.
Watch Webinar
FAQs
How Long Does It Take to Complete the Sustainability Graduate Program?
Program length is ordinarily anywhere between 2 and 5 years. It depends on your preferred pace and the number of courses you want to take each semester.
For an accelerated journey, we offer year round study, where you can take courses in fall, January, spring, and summer.
While we don't require you to register for a certain number of courses each semester, you cannot take longer than 5 years to complete the degree.
What Can You Do With a Master's Degree in Sustainability?
With a master's degree in sustainability, you'll gain the knowledge and flexibility to advance your career while making a positive impact on the environment.
You might choose to help your organization reduce its carbon footprint, design environmentally friendly products, reduce wasteful packaging, or develop a more sustainable supply chain. You could also help ensure ethical corporate governance or bring your organization's business practices into alignment with the interests of stakeholders and customers.
Is a Degree in Sustainability Useful?
A graduate degree in sustainability creates the opportunity for you to pursue your passion while bringing about positive change. Careers in sustainability are rarely linear, meaning that you can create your own path.
You may want to bring sustainability to a specific industry you know well, such as fashion or finance. Or, you could apply your unique skills — such as urban planning, eliminating packaging waste, or food sustainability — to one of many industries.
Is a Career in Sustainability a Smart Choice?
As the fight against climate change grows more urgent, governments, nonprofits, and businesses increasingly need employees with green skills. In fact, the amount of jobs in sustainability are quickly outpacing the supply of individuals with the relevant qualifications.
Adding a master's in sustainability to your resume may give you a competitive advantage in this job market — while helping you play a vital role in keeping our planet healthy.
What does the Harvard Extension School diploma say? Would I be getting a real Harvard degree?
Harvard Extension School is a fully accredited Harvard school and our degrees and certificates are adorned with the Harvard University insignia.
As an example, if you earn the Master of Liberal Arts in a specific field, your diploma will have "Harvard University" at the top and it will state (in Latin) that you earned a Master of Liberal Arts in extension studies. Your official transcripts will list relevant degree information, such as your field of study and any certificates earned.
Harvard Extension School graduates also walk at the University Commencement and become members of the Harvard Alumni Association.