Program Overview
Curators. Tour guides. Archivists. Researchers. With a graduate degree in museum studies, you can transform your passion for art, culture, and history into an enriching career at a museum or other cultural institution. In this high-demand field, museum studies jobs are expected to grow at a much faster-than-average rate for the next several years.
In our museum studies degree program, you'll tailor your studies to focus on an area that aligns with your interests and goals: collections care, exhibition design, museum education, technology, or the business of museums.
Program Benefits
Customizable online curriculum and small classes

A faculty of museum experts, including Harvard museum directors

Personalized academic and career advising

Exclusive access to Harvard libraries and museums

Paid research and internship opportunities

Harvard Alumni Association membership upon graduation
Customizable Course Curriculum
Our curriculum is flexible in pace and customizable by design. You can study full or part time. The museum studies master's degree program — through online discussions, group projects, and other collaborative activities — allows you to experience the convenience of online learning as well as the immersive benefits of in-person learning.
As you work through the 10-course program, you'll take core courses to deepen your knowledge of essential topics such as the theory that informs museum practice, types of museums and their objectives, and how museums can create meaning and invite interpretation.
You'll then build on that foundation by selecting elective courses that focus on your interests — for example, collections care, museum data systems, or exhibition design. The program culminates with a capstone project.
9 Online Courses
Primarily synchronous
Fall, spring, January, and summer options
On-Campus Experience
You'll complete 1 on-campus course, choosing between an accelerated or standard pace:
2 weekends (1 in fall and 1 in spring)
3 weeks in January or summer session
Capstone Project
You'll complete a project focused on solving a real-world problem for the museum profession.
Admissions
The path to your degree begins before you apply to the program.
First, you'll register for and complete 2 required courses, earning at least a B in each. These foundational courses are investments in your studies and count toward your degree, helping ensure success in the program.
Getting Started
We invite you to explore degree requirements, confirm your initial eligibility, and learn more about our unique "earn your way in" admissions process.
Earning a Stackable Certificate
As you work your way toward your master's degree, you can take courses that also count — or "stack" — toward a graduate certificate. It's a cost-effective, time-saving opportunity to build specialized skills and earn a professional credential along the way to your degree.
Here are a few examples of stackable certificates and courses.
Digital Storytelling
Learn how to produce and distribute journalistic content through engaging, innovative digital formats.
Sample stackable courses:
Exploring Digital Media
Introduction to Media Production
Introduction to 3D Animation and Virtual Reality
Technomusicology
Learning Design and Technology
Create and implement effective learning experiences on digital platforms.
Sample stackable courses:
Fundamentals of Website Development
Designing Educational Media
Applied Learning Design
Agile Project Management
Nonprofit Management
Gain a deeper understanding of the skills and knowledge required for a leadership role in a nonprofit organization.
Sample stackable courses:
Nonprofit Leadership and Community Engagement
Principles and Practices of Fundraising
Museums and Technology
The Business of Museums
A Faculty of Museum Experts
Studying at Harvard Extension School means learning from the world's best. Our instructors are experts in the business of museums, creating exhibits, caring for collections, and more. They bring a genuine passion for teaching, with students giving our faculty an average rating of 4.6 out of 5.
Our Community at a Glance
Our students in the Museum Studies Master's Degree Program are established professionals looking to deepen their expertise (41%), advance their careers (28%), or change careers (21%). Approximately half of the students enrolled in the program have professional experience in the field and work across various industries.
37

Average Age

1

Course Taken Each Semester

68%

Work Full Time

96%

Would Recommend the Program

50%

Professional Experience in the Field

Most

Pursued for Career Change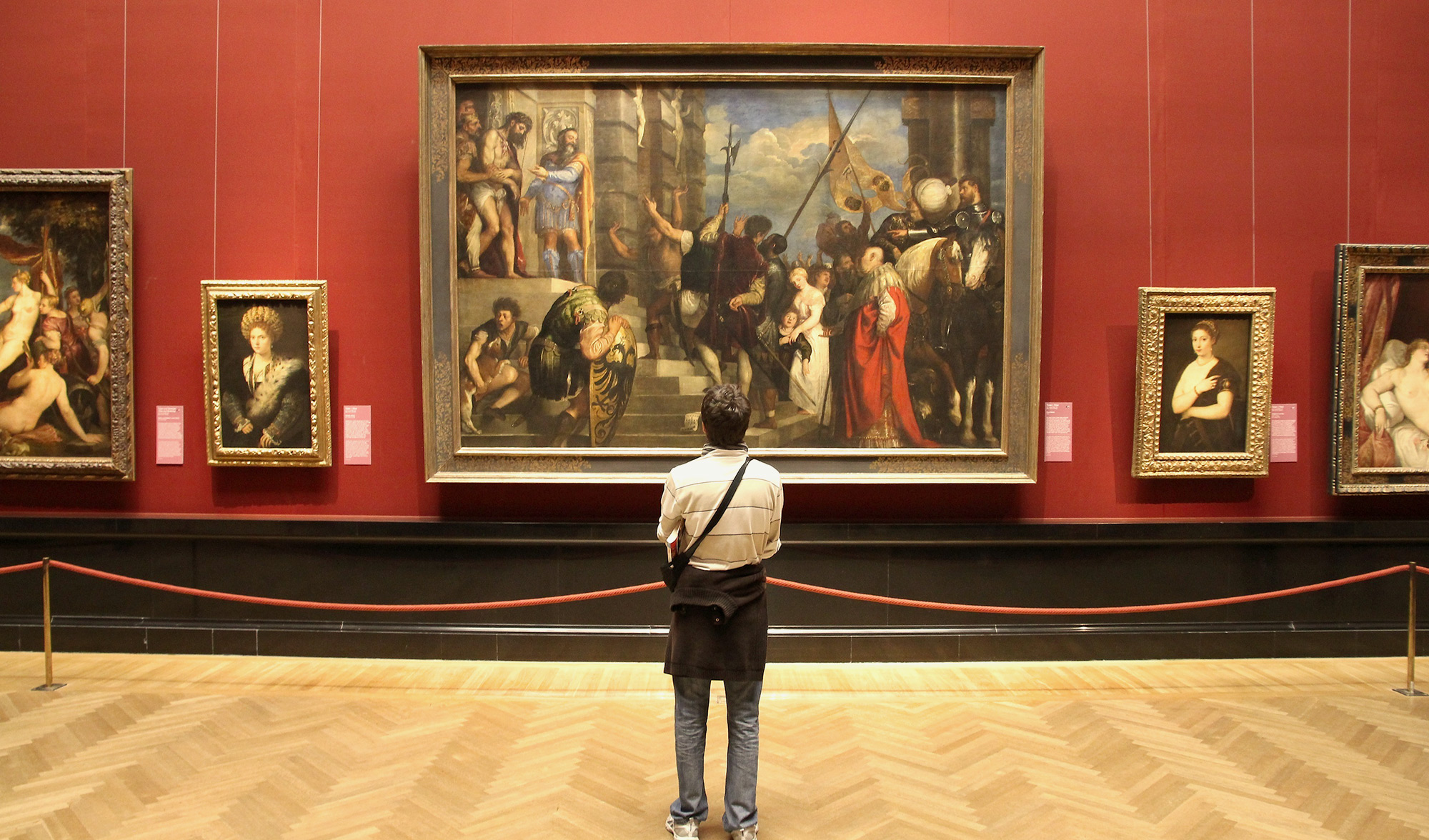 Career Opportunities & Alumni Outcomes
Our museum program graduates work in art galleries, museums, historical societies, universities, and other institutions with archived materials and noteworthy objects, such as the Boston Red Sox.
Some alumni continue their educational journeys and pursue further studies in other nationally ranked degree programs, including those at Columbia University, Massachusetts Institute of Technology, New Hampshire Institute of the Arts, and Yale University.
Our alumni hold job titles such as:
Archivist
Curatorial Research Associate
Exhibitions and Collections Manager
Museum Director
Our alumni work at a variety of leading organizations, including:
Antiques Roadshow
Isabella Stewart Gardner Museum
The Met
Smithsonian
Career Advising and Mentorship
Whatever your career goals, we're here to support you. Harvard's Mignone Center for Career Success offers career advising, employment opportunities, Harvard alumni mentor connections, and career fairs such as the Harvard Humanities, Media, Marketing and Creative Careers Expo.
Your Harvard University Degree
Upon successful completion of the required curriculum, you will earn the Master of Liberal Arts (ALM) in Extension Studies, Field: Museum Studies.
Expand Your Connections: the Harvard Alumni Network
As a graduate, you'll become a member of the worldwide Harvard Alumni Association (400,000+ members) and Harvard Extension Alumni Association (29,000+ members).
Owning this career shift and my need for experience enriched the process of completing my degree.
Tuition & Financial Aid
Affordability is core to our mission. When compared to our continuing education peers, it's a fraction of the cost.
| | |
| --- | --- |
| Our Tuition (2023–24 rate) | $3,220 per course |
| Average Tuition of Peer Institutions | $4,330 per course |
| Average Total Cost | $32,200 |
After admission, you may qualify for financial aid. Typically, eligible students receive grant funds to cover a portion of tuition costs each term, in addition to federal financial aid options.
FAQs
How do I know if the museum studies master's program is right for me?
Choosing the right master's program requires careful consideration, so it will depend on your unique life circumstances and goals.
However, if you aspire to work in museums, cultural institutions, or art galleries — or related fields, like historic preservation, education, or curation — the Museum Studies Master's Degree Program at Harvard Extension School may be right for you.
How will the museum studies master's program help me advance in my career?
A graduate degree in museum studies will provide you with an advanced understanding of the field and help you develop the skills and knowledge required to excel in various roles within museums, cultural organizations, and the heritage sector.
Many employers prefer — or even require — candidates with advanced degrees for higher-level roles. If you aspire to become a leader in your institution, a master's degree in museum studies may be essential for advancing your career.
How long will it take me to complete the program?
Program length is ordinarily anywhere between 2 and 5 years. It depends on your preferred pace and the number of courses you want to take each semester.
For an accelerated journey, we offer year round study, where you can take courses in fall, January, spring, and summer.
While we don't require you to register for a certain number of courses each semester, you cannot take longer than 5 years to complete the degree.