Lindi Dorothee von Mutius
Director, Climate Action Accelerator, Harvard University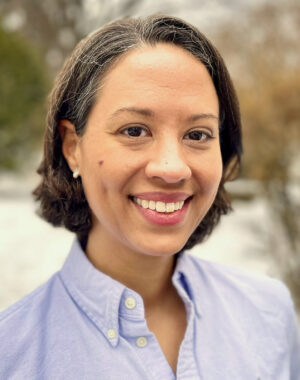 Program Areas
Why do you teach at Harvard Extension School?
I love teaching the kind of students that the Extension School attracts. They bring so much practical and professional experience to the classroom, and I constantly admire their tenacity, dedication, and drive to address climate change and environmental issues.
What are your areas of expertise, and how did you become interested in this field?
My expertise is in environmental law and lobbying, specifically around energy policy and land conservation. I am also working on research that looks at mitigating urban heat islands in megacities and how marginalized communities can be meaningfully engaged in climate change and disaster response.
An internship I did my senior of high school in Senator John Kerry's office first sparked my passion for this field. I was not sure about the environmental field, and that internship inspired a passion for it. I naturally gravitated to environmental justice work after working on a few cases as a law student and attorney, as well as my experience working in Cairo with informal garbage collectors.
What is one of your most memorable moments from Harvard Extension?
On my own graduation day from Harvard Extension student, George Buckley – Program Director at the time – brought me a beautiful, large drupe shell at lunchtime, and told me to make sure I kept growing and seeking even bigger homes for the knowledge I would gather in life. I have put that shell on every desk at every job and tried to keep growing in knowledge. It's also been a great way for me to share my Extension experience with curious colleagues.
More About Lindi
Lindi von Mutius, JD is director of the Climate Action Accelerator at Harvard University. In 2005, Lindi was the first graduate of what was then called the ALM in Environmental Management and is committed to ensuring that the student and faculty experience reflects the transformative power of these programs as they continue to grow.
Previously, Lindi has held senior roles at the Environmental Defense Fund and the Trust for Public Land, and served as Chief of Staff of the Sierra Club. Her professional background has spanned working in government, lobbying, and litigation. Lindi's positions in NGOs allowed her to pursue her passion: leading efforts towards improved sustainability, conservation and environmental justice outcomes. Her passion remains environmental justice and increasing equitable access to the outdoors. Her research interests include environmental history, environmental justice law and policy, and climate disaster policy.
Lindi serves on the Boards of the People for the American Way, the Environmental Leadership Program and The Summit Foundation. In her free time, Lindi enjoys kayaking, winter sports, hiking, and puttering around in the garden. She was born in Essen, Germany, and speaks German fluently.
Publications and Speaking Engagements
Panelist,

The Diversity and Inclusion Revolution

, World Bank Group Youth Summit (May 2022)

 

Featured in "

Creating Spaces for Queer Environmentalists

," published online in Earthjustice Magazine on June 14, 2021.

 

"

The Look We Give

," published online in Autostraddle on May 22, 2019.

 

Moderator,

20/20: All Eyes on the Year Ahead

with the Equality Federation (Feb. 2020)

 

"

Thoughts on Immigration

," published online at HuffPost (Jan. 15, 2018)

 

Keynote Speaker, Williams College 50th Anniversary of the Center for Environmental Studies (Nov. 2017)

 

Project on disaster preparation in black, queer communities profiled in "

6 Queer Women Literally Saving the World Through Environmental Justice

," published online in Autostraddle on July 4, 2017.

 

Binding of the Bacillus Subtilis LexA Protein to the SOS Operator

.

Oxford Journal of Nucleic Acids Research.

2005; 33(19): 6287–6295. 

 

The Holznot & The Emergence of the German Forest Service

, published by the Harvard University Arnold Arboretum, 2003.