Program Overview
Data science is a complex and dynamic field, and one in which individuals with the right mix of skills are likely to remain in high demand. Through the graduate program in data science, you will master the technical, analytical, and practical skills you need to solve real-world, data-driven problems. 
In the master's degree program in the field of data science, you will:
Develop an in-depth understanding of data science methods in predictive modeling, data mining, machine learning, artificial intelligence, data visualization, and big data.

Build the skills to explore, analyze, manage, and visualize large data sets using the latest technologies.

Apply data science and analytical methods to address data-rich problems from a variety of fields, think critically about data, and drive decision making.

Develop the skills for quantitative thought leadership, including the ethical and legal dimensions of data analytics, as well as effective communication and collaboration.
Program Benefits
Customizable course curriculum with stackable certificate options

Team-based capstone project

Personalized academic & career advising

Entrepreneurial opportunities through the Harvard Innovation Labs

Paid research options

Harvard Alumni Association membership upon graduation
Customizable Course Curriculum
Our curriculum is flexible in pace and customizable by design. You can study part time, choosing courses that fit your schedule and align with your professional goals. You'll also experience the convenience of online learning and the immersive benefits of in-person learning.
Your core courses focus on topics like machine learning, data processing, big data systems, and data engineering. In elective courses, you choose from a variety of topics, including artificial intelligence, wearable devices, data structures and algorithms, and cloud computing.
Learning is hands-on. Classes, including the precapstone and capstone, feature collaborative activities like online discussions and group projects.
11 Online Courses
Primarily asynchronous
Fall, spring, January, and summer options
On-Campus Experience
You'll complete the 3-week precapstone course on campus during a January or summer session, working with your team to kickstart your capstone project.
Capstone Project
You'll collaborate with an industry, government, or academic partner to investigate a real-world topic.
Admissions
The path to your degree begins before you apply to the program.
First, you'll register for and complete 2 required courses, earning at least a B in each. These foundational courses are investments in your studies and count toward your degree, helping ensure success in the program.
Getting Started
We invite you to explore degree requirements, confirm your initial eligibility, and learn more about our unique "earn your way in" admissions process.
A Faculty of Data Science Experts
Studying at Harvard Extension School means learning from the world's best. Our instructors are experts in a wide variety of data science topics. They bring a genuine passion for teaching, with students giving our faculty an average rating of 4.3 out of 5.
Our Community at a Glance
Along with a cohort of diverse peers, you'll gain hands-on experience conducting interdisciplinary data science research. Our students work in a variety of roles —including as management or IT consultants, business analysts, and data engineers. They're pursuing certificates to advance careers in data science, machine learning, or data analytics.
35

Average Age

1

Average Courses Taken Each Semester

76%

Work Full Time

99%

Would Recommend the Program

55%

Professional Experience in the Field

Most

Pursued for Career Advancement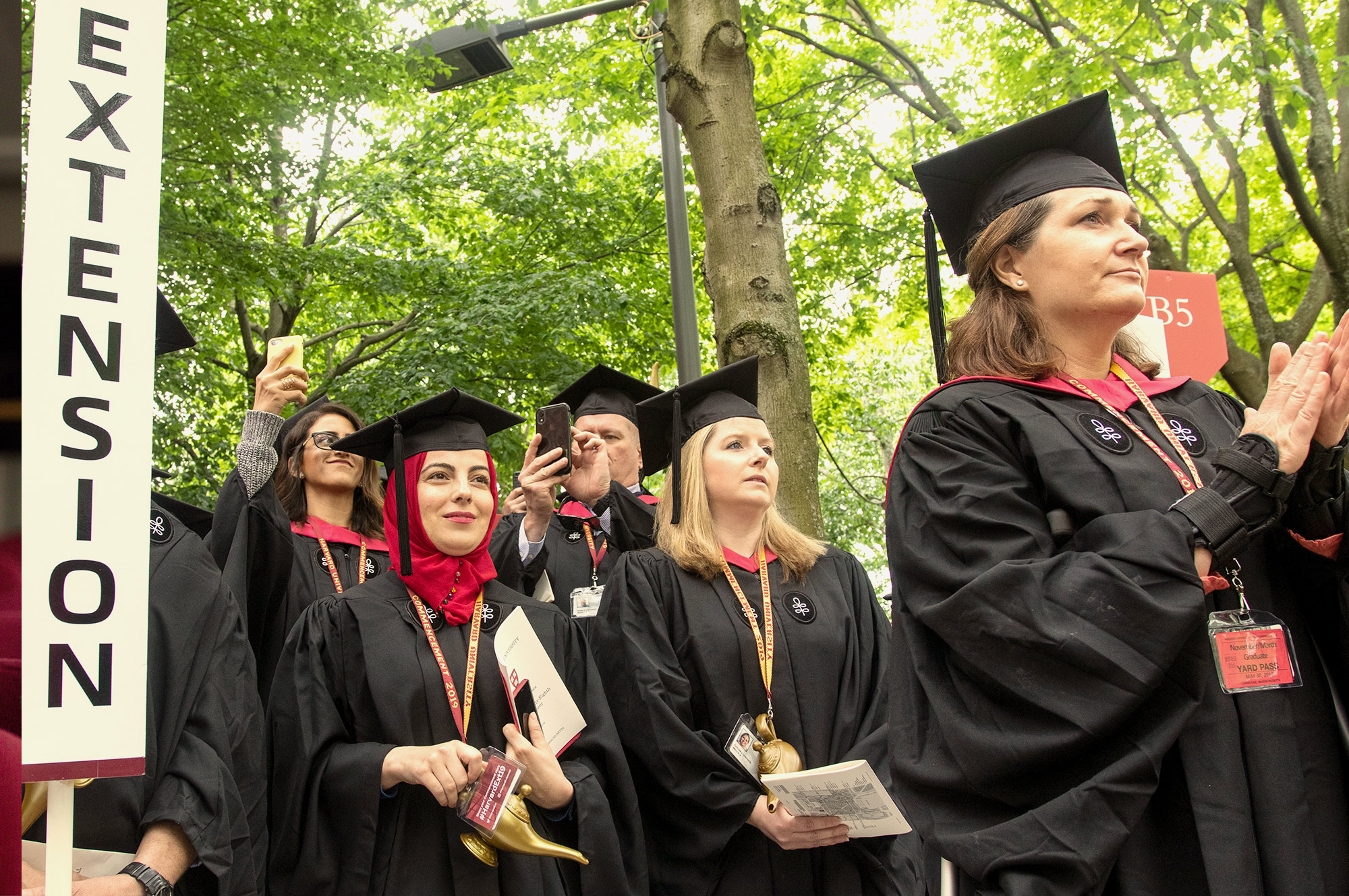 Careers & Alumni Outcomes
The long-term outlook for careers in data science is strong. As organizations develop new ways to collect data, demand for dedicated professionals with the right mix of skills to interpret that data will continue to expand.
Jobs in data science can be found in any industry that collects information. Your career path could range from developing new technologies for data mining, writing software to store and protect data, analyzing data through advanced modeling and visualization techniques, or applying data-driven solutions to today's business problems.  
Sample alumni job titles:
Data scientist

Software engineer

Analytics manager

Data engineer

Director of data science

Computer systems analyst

Quantitative developer

Machine learning developer

Big data architect
Career Advising and Mentorship
Whatever your career goals, we're here to support you. Harvard's Mignone Center for Career Success offers career advising, employment opportunities, Harvard alumni mentor connections, and career fairs like the Harvard Startup Career Fair and the Data Analytics, Science, and Technology Fair held on campus.
Your Harvard University Degree
Upon successful completion of the required curriculum, you will receive your Harvard University degree — a Master of Liberal Arts (ALM) in Extension Studies, Field: Data Science.
Expand Your Connections: the Harvard Alumni Network
As a graduate, you'll become a member of the worldwide Harvard Alumni Association (400,000+ members) and Harvard Extension Alumni Association (29,000+ members).
Tuition & Financial Aid
Affordability is core to our mission. When compared to our continuing education peers, it's a fraction of the cost.
| | |
| --- | --- |
| Our Tuition (2023–24 rate) | $3,220 per course |
| Average Tuition of Peer Institutions | $4,330 per course |
| Average Total Cost | $38,640 |
After admission, you may qualify for financial aid. Typically, eligible students receive grant funds to cover a portion of tuition costs each term, in addition to federal financial aid options.
FAQs
What Can You Do With a Master's Degree in Data Science?
A master's degree in data science will give you both the theoretical knowledge and the practical skills you need to advance your career in this rapidly growing field.
Advancing your education in data science can help you develop important analytical, business, modeling, and visualization skills, as well as advanced programming and coding skills. You may learn cutting-edge trends in artificial intelligence, machine learning, and other developing technologies. Or you can explore new ways to apply your skills across different industries such as healthcare, advertising, wearable tech, or autonomous vehicles and drones.
Read more in our blog post What You Can Do with a Master's in Data Science.
Is a Degree in Data Science Useful?
A degree in data science may not be required to get started in the field, especially for entry-level programmers and data analysts. Degrees in software engineering, computer science, math, and statistics can give you the basic skills you need to start a career in data science.
However, a graduate degree in data science offers a combination of skills that can help you stay competitive in the job market. In addition to programming and statistics, for example, a degree in data science offers advanced knowledge of modeling, data visualization, data analysis, and business intelligence.
Moreover, many mid- and senior-level positions such as data scientist or data architect for example, as well as most management positions, may require a master's degree in data science.
Is a Career in Data Science a Good Career?
As organizations harness new technologies to gather and collect information more effectively, the demand for knowledgeable professionals with the skills to analyze that data correctly is growing—and quickly.
According to the US Bureau of Labor Statistics, jobs for data scientists and related positions are expected to grow 22 percent between 2020 and 2030.
And due to both growing demand and the complexity of the work, data science can be a lucrative career as well. According to Glassdoor, data science was the third-best job in the United States in 2022, based on median salary and availability of job openings.
How Long Does it Take to Complete the Data Science Graduate Program?
Program length is ordinarily anywhere between 2 and 5 years. It depends on your preferred pace and the number of courses you want to take each semester.
For an accelerated journey, we offer year-round study, where you can take courses in fall, January, spring, and summer.
While we don't require you to register for a certain number of courses each semester, you cannot take longer than 5 years to complete the degree.
What Prerequisites Do You Need Before Applying for the Data Science Master's Degree Program?
With Harvard Extension School's unique "earn your way in" admissions process, there are no prerequisites required to begin your course of study in the data science master's degree program.
To get started, you must complete two required courses that apply toward your degree: Foundations of Data Science and Engineering (CSCI 101) and Data Modeling (CSCI 106) or Introduction to Statistical Modeling (STAT 109).
However, to qualify for the master's program, you must have prior knowledge of calculus and be able to write functions in Python and R. If you do not have these skills, it is recommended that you take Python (CSCI 7), Programming in R (CSCI 5A), and/or Calculus (MATH 15) before starting the degree program.