In 2012, Valerie Kramis Hollands was a marketing executive slated to take over her family's successful business in Mexico City. But she found herself drawn in a different direction; she wanted to help affect positive change around the world.
Valerie traveled to Kenya to volunteer at a school in financial trouble and she helped the administration develop a business plan to stay open. Making this contribution inspired her to do more. "For a long time, I had the desire to work somewhere that created social impact. But," recalls Valerie, "it wasn't until the experience in Kenya that I decided to pursue my dream."
MBA Versus Management Degree
Valerie looked into MBA programs—and while she found several that could help her transition her career, none of them were exactly the right fit. Soon, she discovered Harvard Extension School's Nonprofit Management Professional Graduate Certificate and master's degree in management, which offered the nonprofit focus and flexibility she needed.
"I was able to shape my degree," she explains, "depending on the needs of my venture at each stage." At the beginning, Valerie took several courses online, allowing her to continue her full-time job in Mexico and save money. Upon leaving her job, she came to Boston, "fully committed to launching my idea," developing meaningful connections, and tapping into the resources around her. When a business opportunity arose in India, she took a semester off from her courses.
Launching Agenda28
"Each course at Harvard has helped me research, develop, and prototype different business ideas to achieve a model for creating a lasting social impact," Valerie says. Her turning point came during the course Innovation, Entrepreneurship, and Business Transformation, where she discovered human-centered and impact design, and later impact design. Good design, she learned, has the potential to improve lives.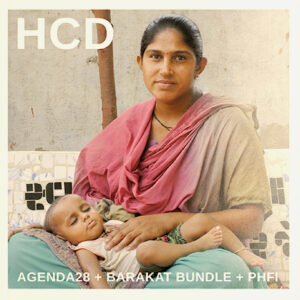 With support from the Harvard Innovation Lab, she launched the design studio Agenda28. "We develop integral design strategies for initiatives that create positive social, environmental, and economic change," she says. Since Agenda28's inception, Valerie and her business partner have worked with 17 companies in the United States, Mexico, India, Zambia, and Australia.
Agenda28 is now partnering with Barakat Bundle, an enterprise started by Harvard School of Public Health students to prevent infant and maternal deaths in South Asia's poorest regions. Inspired by the Finnish Baby Box, Barakat Bundle created a bundle—which is also a portable crib—filled with life-saving maternal and baby care items.
When Barakat Bundle discovered that the cardboard crib used in Finland was not suitable for South Asia's humid climate, they hired Agenda28 to develop a new design.
Valerie spent a semester in India learning about the mothers, their conditions, and how they care for their infants. "You can't make assumptions with design," she says. "I knew I needed to visit the country, to see the mothers in their element so I could understand their needs." Valerie learned that many mothers want a crib that swings, not a stationary box. They often use their saris to capture the swinging motion by tying them up like a hammock.
Valerie understood that if she could design a crib that met these needs, South Asian mothers would be more likely to use the items in the bundle. Agenda28 developed and tested four crib prototypes before finalizing the design that will be manufactured and delivered to mothers in a pilot phase.
Valerie notes that her studies and the connections she made at the Extension School were vital to her achieving her dream. "Little by little," she says, "each learning experience prepared me to launch a social enterprise that could improve lives. Harvard opens many different doors. You just have to decide which one to go through."