From the Navy to Harvard to the White House
In this essay, Johnson, a naval officer who worked as a speechwriter for the Chairman of the Joint Chiefs of Staff, shares his journey through Harvard Extension School.
April 13, 2015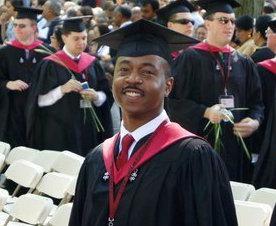 When I decided to pursue a graduate degree while still working full time, there were dozens of programs from which I could choose. Many universities offer evening and online classes to accommodate the rise of nontraditional students and capitalize on the near-ubiquitous availability of broadband Internet connections.
But when I learned of Harvard Extension School, the choice was crystal clear: I wanted a degree from Harvard.
It would be nice if I could say with a straight face that I chose Harvard because of its incredible reputation, exceptional faculty, and extensive alumni network. But I can't. I attended Harvard because, quite frankly, I wanted to see if I could make it. I was curious to know if I had what it took to excel at one of the most prestigious universities in the world.
In actuality, I really had nothing to prove. After receiving scholarships to my undergraduate institution and embarking on a successful career as a cryptologic officer in the US Navy, I was more than confident in my ability. Making combat landings into war-torn Iraq and operating alongside the territorial waters of hostile nations has a way of steeling you to face almost any challenge.
Nonetheless, Harvard was outside of my comfort zone. Unbeknownst to me at the time, attending Harvard was the first step in breaking the careful mold I'd sculpted for myself.
What began as a personal challenge to test the bounds of my intellect and keep me professionally competitive became a life-changing experience that has helped define my identity and purpose.
At the Extension School, my classes consisted of a range of subjects, from ancient Chinese culture to the effects of climate change to genocide. There was even a timely course on just war theory that informed my thinking on the novel concept of cyberwar, an oft-discussed topic at the Naval War College where I worked.
My classmates, who worked in a variety of places such as nonprofit organizations, information technology companies, high schools, and hospitals, brought points of view on historical and contemporary issues that were just as educational as the material in the syllabus.
By the time my thesis neared completion and graduation preparation began, I was a different person. But it wasn't a particular class or professor that opened my eyes. It was the cumulative experience. There was something about being a Harvard graduate that removed the artificial barriers I'd set around myself, limiting my prospects. I thirsted for new opportunities, particularly those I'd eschewed because they did not neatly fit into my career progression plan.
I knew that if I could make it at Harvard, I could do anything.
It was at this time that I learned of the White House Fellowship. This program, established in 1964, is the most prestigious fellowship for public service in the nation. Former fellows include presidential candidates, cabinet secretaries, governors, mayors, chief executives at Fortune 500 companies, media personalities, and military generals and admirals. Their résumés read like a Who's Who of Harvard alumni.
Many applicants have been intimidated by the academic and professional achievements of current and former fellows. And there is no shame in my admission that before Harvard, I never would have applied.
But because of my Extension School experience, I undertook the three-stage, six-month-long application process with confidence.
It was in the running of this gauntlet that I began to dig into my family history to forge the personal narrative that would help me stand out amongst hundreds of talented applicants. Without a doubt, this directly contributed to my selection as one of 15 for a 2011–12 White House Fellowship, alongside seven others who happened to be Harvard alumni.
The fellowship was transformative. I applied the skills acquired at Harvard to policy issues and conversations with national leaders (including three presidents of the United States). My horizons were broadened. My desire to share my personal story and be part of the national dialogue on our most pressing issues was cultivated and honed.
This led to op-ed essays published in publications such as the Wall Street Journal and The Atlantic. It also led to a talk at a TEDx event where I shared the century-old legacy of my family name, appearances on national news networks, and recent admission to a doctoral program—oh yes, and a promotion.
I can state with certitude that the Extension School opened up a world of possibilities that I'd never considered. While I may have been able to proudly continue my military service, an honorable endeavor on its own, I would not have stood in the Oval Office and shared my family's plight with the first black president, nor pursued my newfound passion for writing. These are not anecdotal asides. They are at the heart of my identity.
What was once an attempt to prove I could make it at Harvard is now an attempt to make a difference in our world. For this, I have the Extension School to thank.