The start of the semester can be a hectic time. You're juggling your career, classes, family, and friends. Deb Levy, a certified life and business coach, and a Harvard Extension career workshop leader, offers five tips in this video to help you succeed in your coursework.
Know your strengths.
It's human nature to want to correct weaknesses. But knowing your strengths and how to use them effectively can have a much more substantial effect on success and well-being. So how can you reframe your thinking?
According to Deb Levy, the field of positive psychology offers many useful tools. One in particular—the Character Strengths Test from VIA Institute on Character—can help you gauge your strengths and weaknesses. The test ranks users' character strengths from strongest to weakest, allowing for an objective view into where you excel and where you may need work.
Once you know what your strengths are, you can play to them. But it's also important to know that sometimes strengths need to be tempered.
"Every strength if overused becomes a deficit," says Levy.
For instance, someone who ranks highly in humor might run the risk of making an insensitive or inappropriate comment that could damage relationships.
Making a plan to bolster weaknesses while remaining conscious of strengths can be a great strategy to ensure not just academic success, but personal fulfillment.
Set specific goals.
Achieving your goals depends heavily on how well you can manage your time. Levy recommends making a priority pie that maps out how you'll divide your time over the course of a semester.
"When you say yes to becoming a student, you have to say no to other things," she says. "So goal-setting requires a strategic plan for the semester. Students who do better in general are the ones who take time to plan."
Your priority pie should reflect all your personal, professional, and academic endeavors. For example: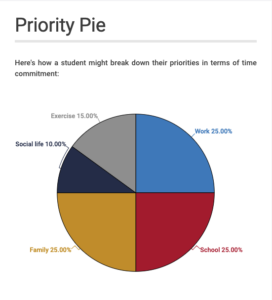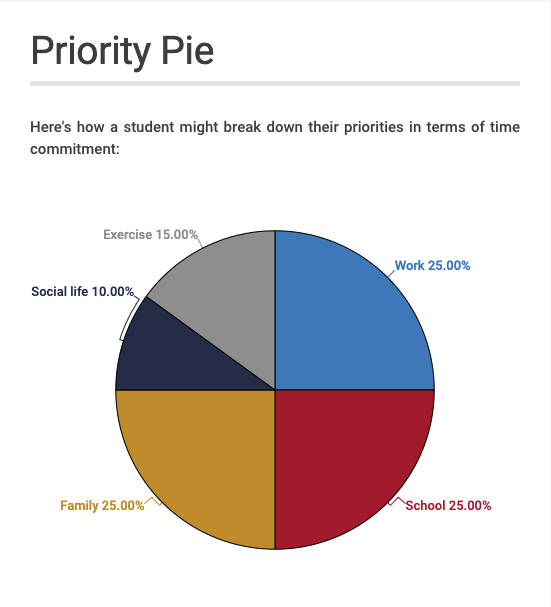 Your priority pie should include not just classes and your work day, but also time for family, studying and homework, and self-care like going to the gym or getting a regular massage.
Levy stresses that the best goals are specific, personal, and flexible.
Prioritize happiness.
Feeling good about what you're doing and why you're doing it is the best way to ensure success. According to Levy, happiness often leads to success, but success on its own may not lead to happiness.
As such, prioritizing your own wellness is key to reaching your goals. Levy says well-being consists of positive emotions, engagement, meaning, and achievement.
"By nature of being in school people are already prioritizing well-being. They're getting engaged, working on accomplishments," says Levy.
Aside from making time for yourself, you can practice building positivity.
One exercise that Levy recommends is writing down three good things at the end of each day. These can be things you're proud of, things you're grateful for, or things that simply bring a smile to your face.
Studying subjects that give your life purpose or meaning can also be beneficial.
"People who connect meaning to their goals are more motivated," says Levy
Be resilient.
Even with a good plan, obstacles will arise. How well you deal with those obstacles depends on your perspective.
In resilience coaching, Levy often refers to the work of psychologist Carol Dweck. Her research identifies two basic mindsets: fixed and growth. Fixed mindsets view mistakes or setbacks as insurmountable. Growth mindsets view them as opportunities for positive change.
If you lean toward a fixed mindset, the good news is that it's not permanent. No one falls into one mindset 100 percent of the time. Training your brain to see opportunity where you once saw a roadblock is possible.
"Give yourself permission to be human," Levy says. "Predict you're going to make mistakes."
One way to build resilience is by preparing for obstacles with implementation intentions, which are if–then plans designed to help people achieve goals. For example, "If I can't get the financial aid I need, then I will reallocate money from my vacation or entertainment budgets."
Setting these intentions gives you a default answer that helps you stick to your plan without having to deliberate or make a snap decision.
Make time to recover.
Rather than avoiding stress altogether, Levy recommends setting aside time to mentally and physically recover.
As a student, you may sometimes fall into a "stretch zone," where you're extending yourself to accommodate for different obligations. Periods of stress can actually be positive and motivating if they expand your perception of what's possible.
But it can lead to chronic stress when you don't build in time to recover.
Viewing your eight hours of sleep every night as sacrosanct can go a long way toward staving off chronic stress. So before you pull another all-nighter, think about the effects it may have on you the next day.
Taking breaks, setting aside time for meals, and enjoying recreation can help fuel you and keep you on course to achieve your goals.
For more information from Deb Levy on balancing academics with life, check out How to Set Goals and Achieve Balance—In and Outside the Classroom.