Graduate studies can open the door to a more fulfilling career. It can provide personal enrichment for people who want to expand their knowledge in a particular area of study. But for various reasons, a master's degree isn't always the right option.
Many students already have graduate degrees and want to deepen their expertise. Others simply are not sure whether a master's is necessary or even feasible for them.
People in both camps often find what they need in a graduate certificate.
A graduate certificate is a postgraduate credential that, much like a graduate degree, is focused on a specific field of study. This gives students who are ready to pursue graduate-level studies the chance to take a deep dive into an area that interests them or can further their career.
Earning a certificate takes less time and is more affordable than earning a master's degree. It's an accessible option for people who need to build relevant, useful skills in just a couple years.
But don't mistake a grad certificate for an easy résumé builder.
Successfully completing a program takes hard work and determination. The purpose of these credentials is to give people better options to develop new skill sets or strengthen existing ones—a necessity as jobs rapidly evolve due to technological advancements.
How Certificates Prepare the Future Workforce
A report from the Pew Research Center states that alternative credentials and a culture of lifelong learning will be key to giving professionals the skills to succeed in this tech-driven age.
Automation, robotics, and artificial intelligence are likely to further disrupt many industries. And even skilled jobs are at risk of becoming obsolete as these technologies evolve, according to the report.
What does this mean for your future?
It's never too early to think about how to specialize and future-proof your skills. You may need to expand your technical capability. Or you might want to build expertise in fields that will be less affected by technological advances.
The good news? Obtaining these skills is more accessible than you might think.
Online learning in higher ed has been a game changer. And Harvard Extension has been at the forefront of creating innovative learning models that give people around the world the opportunity to study.
One expert cited in the Pew report said employers are looking more favorably at candidates who pursue distance learning. These individuals often demonstrate that they're proactive, disciplined, and collaborative in the workplace, as these are the same qualities necessary to succeed in a rigorous online program.
A wider range of credentials combined with a more accessible way of earning them via online capabilities means a better-educated, better-prepared workforce. For people considering what the future holds for them, a graduate certificate could be that key next step.
Why Harvard Extension Students Pursue Certificates
Across fields, the most common reasons Harvard Extension students pursue a graduate certificate are to deepen their expertise and advance in their current career. A certificate is ideal for people attempting to move up in their current field because the courses can be completed on a part-time basis, allowing many to continue working full time.
In fact, many students reported achieving their goals while still in the program.
In a survey of 1,000 students who had just completed their certificate program, 42 percent said they took on more responsibilities at work, received a promotion, or changed careers while pursuing the credential.
Fifty-nine percent of people who earned a certificate in a professional field (i.e. business, management, technology, etc.) said they did so to build expertise or receive a promotion. Below is a chart with some of the other reasons why students in this field pursue a certificate.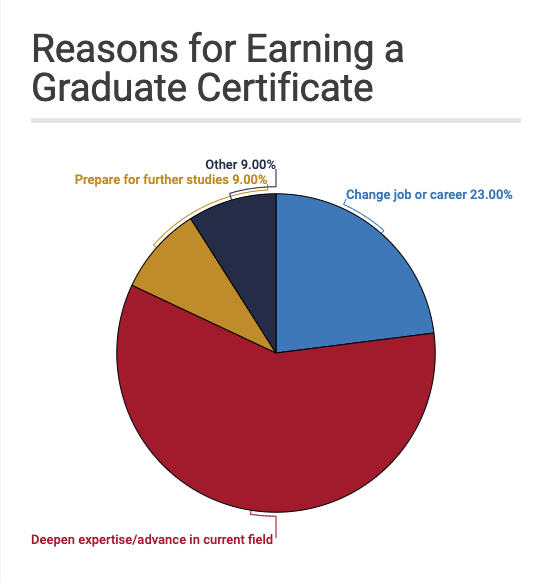 Additionally, many of our liberal arts students earn a certificate to prepare for further studies or to enrich themselves personally.
Impressively, more than 80 percent of Harvard Extension certificate students worked full time while earning their credential. This allows students to get ahead in their careers without falling behind financially or interrupting the progress they've made in their current position.
On average, 90 percent of certificate earners said they would recommend their program to someone they know.
The high satisfaction rate of our certificate programs is due to the carefully considered curriculum aimed at helping students build real skills without disrupting their lives. Still, you might be wondering about the value of a graduate certificate compared to a graduate degree.
Graduate Certificate vs. Master's Degree
There are benefits to both a graduate certificate and a master's degree. Ultimately your personal circumstances and field of interest will determine which is best suited to you. Here are the differences, by the numbers.
Number of fields at Harvard Extension: 42
Average number of courses to complete: 4
Average years to complete: 1.5
Average cost: $11,980
Number of concentrations at Harvard Extension: 25
Average number of courses to complete: 12
Average years to complete: 4
Average cost: $35,700
You'll find greater variety in our certificates because these credentials are meant to develop expertise in a specific field area. In contrast, degree programs provide comprehensive education on broader topics, and students can concentrate their studies through electives and capstone work.
Stacking a Certificate toward a Degree
You may decide to earn a certificate on your way to a degree by choosing courses required for a certificate that also count toward a related master's. Forty-four percent of certificate earners choose this route, affording them the benefits of both credentials.
For prospective students having trouble deciding between a degree and a certificate, stackable credentials make it easy to start with smaller goals before making the leap to a master's.
Here's the important thing: Your education should help you reach your goals. Conduct research on your dream career, and pay special attention to the requirements listed on job postings and demand in the field. Generally, fields with lower demand or high prestige will require an advanced degree, so a certificate might not always be enough.
Both a certificate and a degree require significant costs in terms of time and money. Whichever path you choose, make sure it helps you move forward professionally or personally.
The Harvard Extension Enrollment Services team is here to help students decide the best track for them. Get in touch today to see what the future may hold for you.