How has your HES journey changed or shaped you?
After 20 years as a psychologist, professor, and business consultant in Los Angeles, California, I felt an existential nagging toward more; expanding the scope of my skills, pivoting into leadership, and making a greater impact.
I juggled multiple demands on my time and energy between my day job, volunteer robotics coach, documentarian, board director, and mother of two.
Going back to school full-time wasn't the right move for me professionally, logistically, or financially.
While perusing part-time MBAs, I discovered HES's industrial-organizational psychology program sitting at the intersection of strategic design, humanistic leadership, and authentic productivity. I contacted Harvard for more information and then committed to the first three courses.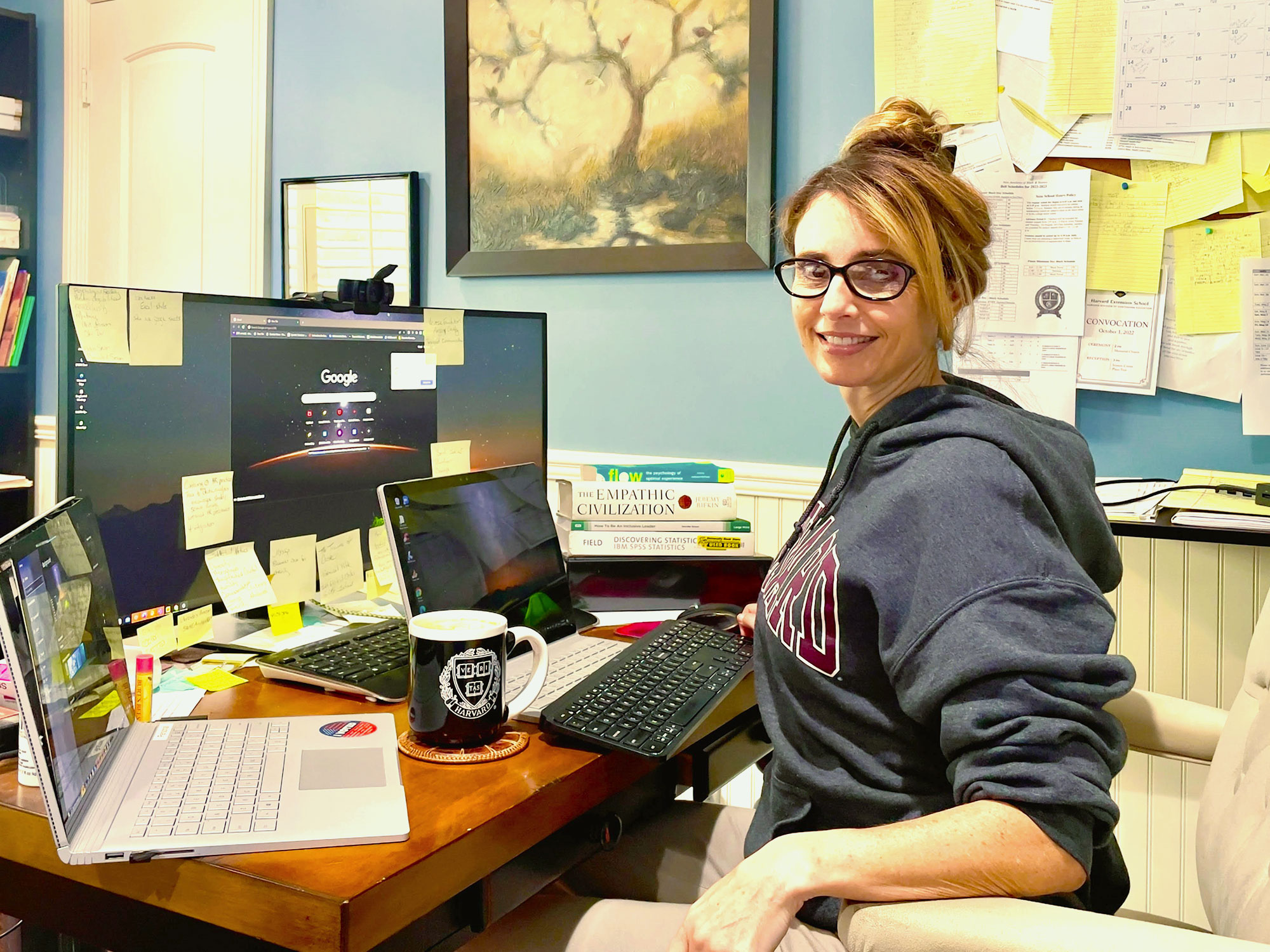 I'm not going to lie; the entrance courses for admission were time-consuming and demanding — like deep stretching for the first time in years. I formed study groups and friendships with classmates to buoy my resilience and settled in.
Then COVID-19 hit.
Life grew strained that first year. My younger child was hospitalized with a life-threatening incurable illness, financial resources tightened, classes irreverently sped along, and my professional job as a psychotherapist became increasingly intense as the pandemic terrorized the planet.
The stress and complexity of balancing work, school, family, my child's health, volunteering, and my own sanity left space for little else.
Reading for class from a hospital chair, I considered quitting but realized I enjoyed — and daresay needed — the academic rigor. Classes gave me a focused respite from my fears. I thrived in the sheer beauty of new learning and the distractions of completing papers, projects, and presentations.
And I was inspired by camaraderie with classmates who faced similar hardships in their personal and professional lives.
I customized my learning in data analytics, organizational management, leadership, and international relations — all emphasizing a diversity, equity, and inclusion perspective.
Class discussions and teamwork with some of the most brilliant people in the world facilitated my development as an independent thinker, contributor, and leader.
As semesters passed, something about me was changing. The areas of life that were previously organized in silos began to melt together.
My knowledge and skills grew more robust and integrated across all of my roles. And I became confident in my ability to bring innovation and know-how to any circumstance.
It is ironic that fear can hold a person back from seeking new challenges, yet challenges are the mechanism through which we conquer fear and thereby grow mightily.
I leave Harvard existentially satisfied (for now) with a fresh I-O Psychology ALM, a certificate in DEIB Leadership, and a life-saving understanding of my son's disease thanks to Hollis Library. Moreover, I leave with a first-hand perspective of the profound impact of lifelong learning on both the student and every aspect of their world.
What was something unexpected that you learned about Harvard?
It was of no surprise to me that the bar would be high for everything and everyone at Harvard. But what I didn't expect was that I would be so welcome to find my place among them.
The success of the educational journey is impacted by the quality of instruction and curriculum design.
Equally important is the psychological development that occurs through peer interactions and social learning.
The "we are all in this together" spirit among classmates representing as many layers of diversity imaginable has left a powerful impression on my heart and mind. I now know that Harvard is a place to which I'll belong for the rest of my life.
Oh, and the wild turkeys that roam campus also belong at Harvard!
What are you going to miss the most about HES?
Being a Harvard student is all-encompassing. It takes grit to adjust to the pace and demands of course workload, sponsored activities, and extra-curricular educational opportunities. But once the rhythm takes hold, it is a way of life to balance, dig deep, hang on, and produce outputs that continually exceed one's expectations.
As satisfied as I am to cross the finish line, it feels bittersweet that I'm not registered for classes next semester. Though it's time to walk into the next experience, I will take the Harvard standard with me wherever I go.
Every time I traveled to campus, my favorite activity was running along the Charles River on the Esplanade. I'll be returning for that as an alumni.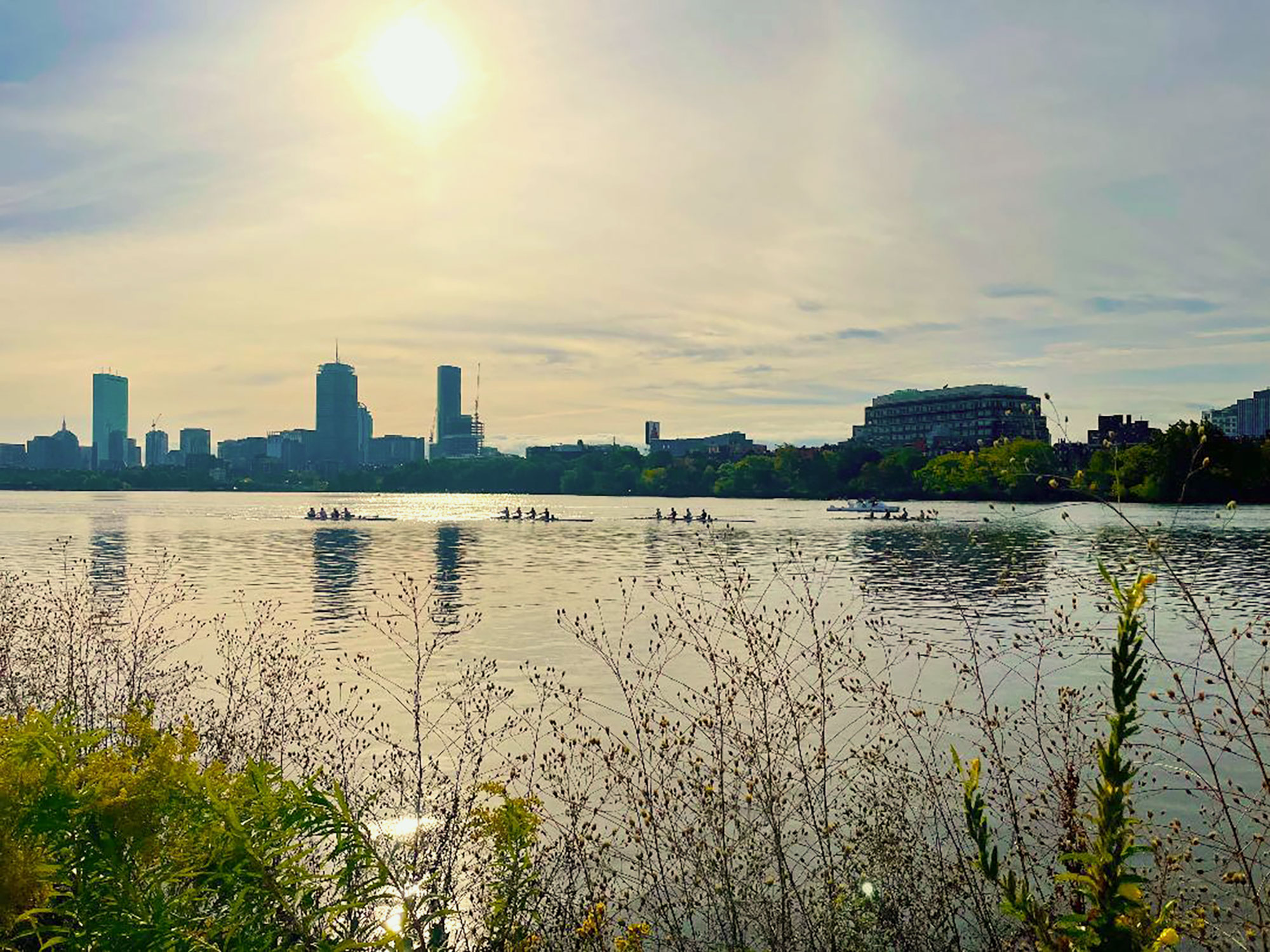 Describe your HES experience in one word.
Renaissance.