In what ways did the accessibility or flexibility of HES help you in your journey?
I was diagnosed with a rare and incurable lung disease called pulmonary hypertension at the age of 4. My treatment includes being hooked to a 24/7 IV treatment that provides me with life-saving medication every 40 seconds.
This treatment, and the specialized doctors who need to be close to me, have made it impossible for me to leave Vienna, Austria, and chase the dream of being a Harvard student in America — or so I thought.
As a German saying my father raised me with goes: "If there is a will, there is a way."
And that way was Harvard Extension School.
I was able to experience my personal Harvard dream while still staying close to my doctors for most of my Creative Writing & Literature master's degree.
While some might think that taking classes online may keep a student from fully integrating with a community, HES has given me endless opportunities to build relationships with fellow students from America and across the globe.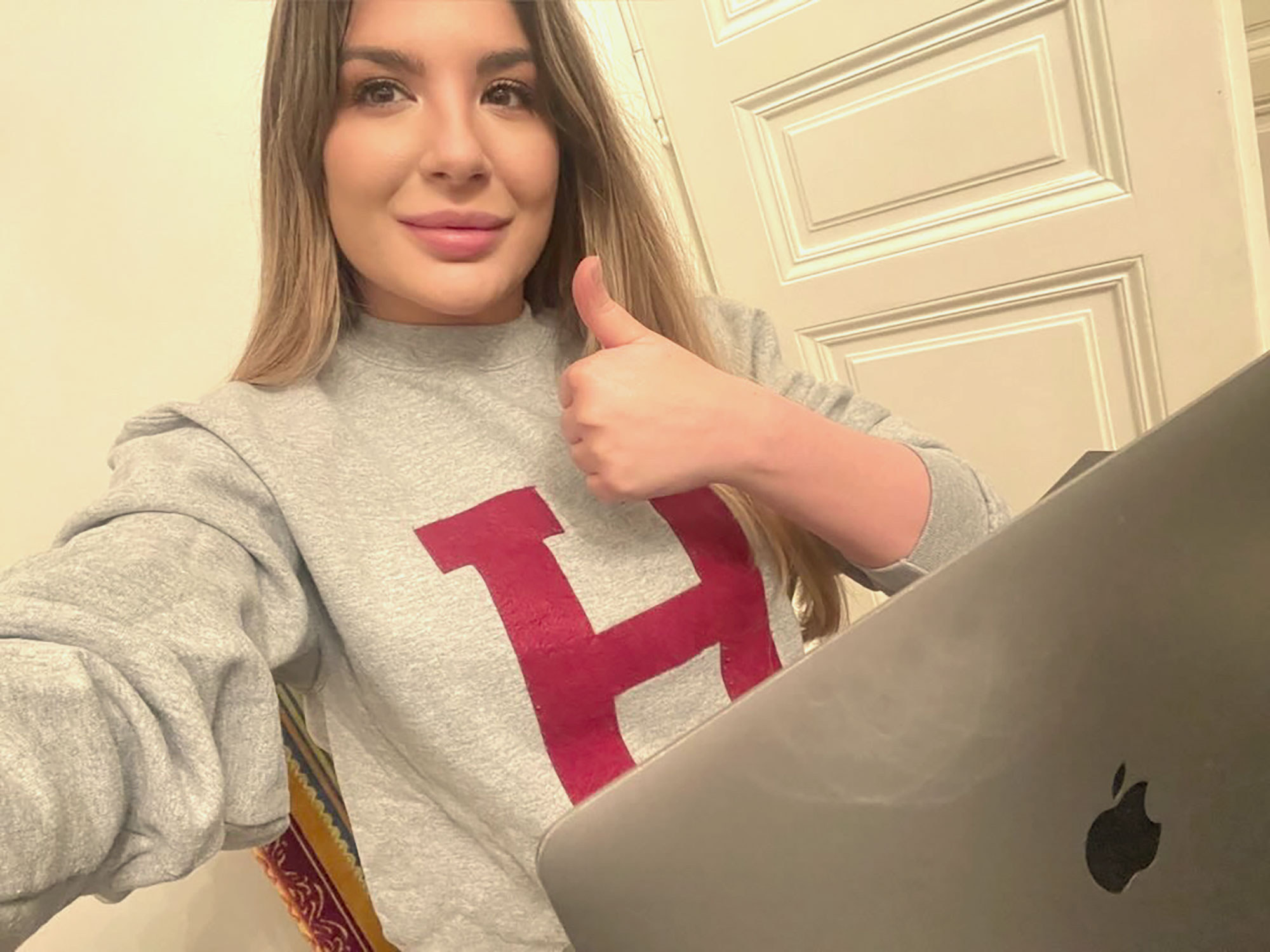 During my 2022 summer writer's residency, I had the privilege of meeting most of my Harvard friends in person. This time with them was beyond anything I could have imagined — we opened up, told our stories, and lived in a moment of empathy.
All these people who used to be strangers listened, shed tears for each other's experiences as if they were their own, and even laughed with intense belly-ache-inducing laughter.
We weren't strangers anymore.
In addition to the stellar education I was able to enjoy through HES, my fellow students and now-close friends have been my greatest gift.
This journey would have never been possible for someone with health-related restrictions like I face daily, and when I was sent my diploma in November of 2022, I could not help but shed a tear in disbelief that I was holding such an achievement in my hand.
An achievement that was connected to hard work, but to no regrets. It was instead connected solely to the incredible interactions I had with teachers, mentors, and fellow students who gave their time, their intellect, their experience, and their sincere support to students like me.
For that, I could never be thankful enough.
What did you do for your thesis?
I created a short story collection for my Creative Writing & Literature ALM thesis that is especially dear to my heart as it includes 10 stories dedicated to the incredible people also fighting pulmonary hypertension, whom I've met throughout my life.
Titled Spir, the Latin word for "to breathe," sets the tone of an omnipresent need for air. For survival. It was a healing journey to respectfully bring these stories to paper and share them with the Harvard community.
Even "just" in the form of my thesis, I hope I honored my fellow warriors properly and I am beyond thankful that the Creative Writing program made it possible for me to write freely and express myself in the most authentic way that I know how to. 
What's something unexpected that you learned about Harvard?
I had my prejudices. I expected that students could be competitive, particularly in a creative field and degree such as writing. But I could not have been more wrong.
The endless support I received from my fellow students, cohort, and now close friends is above anything I imagined.
We supported one another, gave respectful feedback, and cheered each other on — we are a family and fan club all in one.
What are you going to miss the most about HES?
What will always remain one of the greatest highlights of my time at Harvard was my work with the Harvard Square Homeless Shelter, the Phillips Brooks House, and the Global Day of Service events. As my life is largely dedicated to awareness and charitable activities, having the chance to give back to our community through Harvard is going to be greatly missed.
I will, however, always be active in such activities and will never let my passion for philanthropy to mellow.
Describe your HES experience in one word.
Breathtaking.