Building a Sustainable Supply Chain for a Food Startup
In Harvard Yard, Brian Bauer opens his laptop to reveal a world map from the World Resources Institute (WRI). "Here's Moose Jaw," he says, pointing at the screen. "If we look forward to 2020, this whole area is red."
Bauer is referencing data sourced from a WRI platform that uses over 50 years of data sets to project water supply around the world through 2040. The red color code for Moose Jaw in Saskatchewan, Canada, suggests that in three years the city's water supply will be highly stressed.
Canada's water resources are a particular concern for Bauer, a sustainability consultant and alumnus of Harvard Extension School's graduate program in sustainability. His client, Algramo, sources lentils from Canada, which also happens to be his home country.
"So, if the supplier is right here, I would say to my client, 'You've got a lot of risk here. There's reputational risk. This area's already extremely stressed,'" he says. He points to a green region on the map. "But if you buy from here, it's very minimal impact. That's going to be very, very wise and sustainable supply chain management."
Developing a More Sustainable Supply Chain
Algramo is a Chilean startup that installs vending machines that supply food and household items in small shops in low-income Latin America neighborhoods. They aim to provide more affordable food by eliminating the expensive marketing and packaging processes that chain supermarkets use.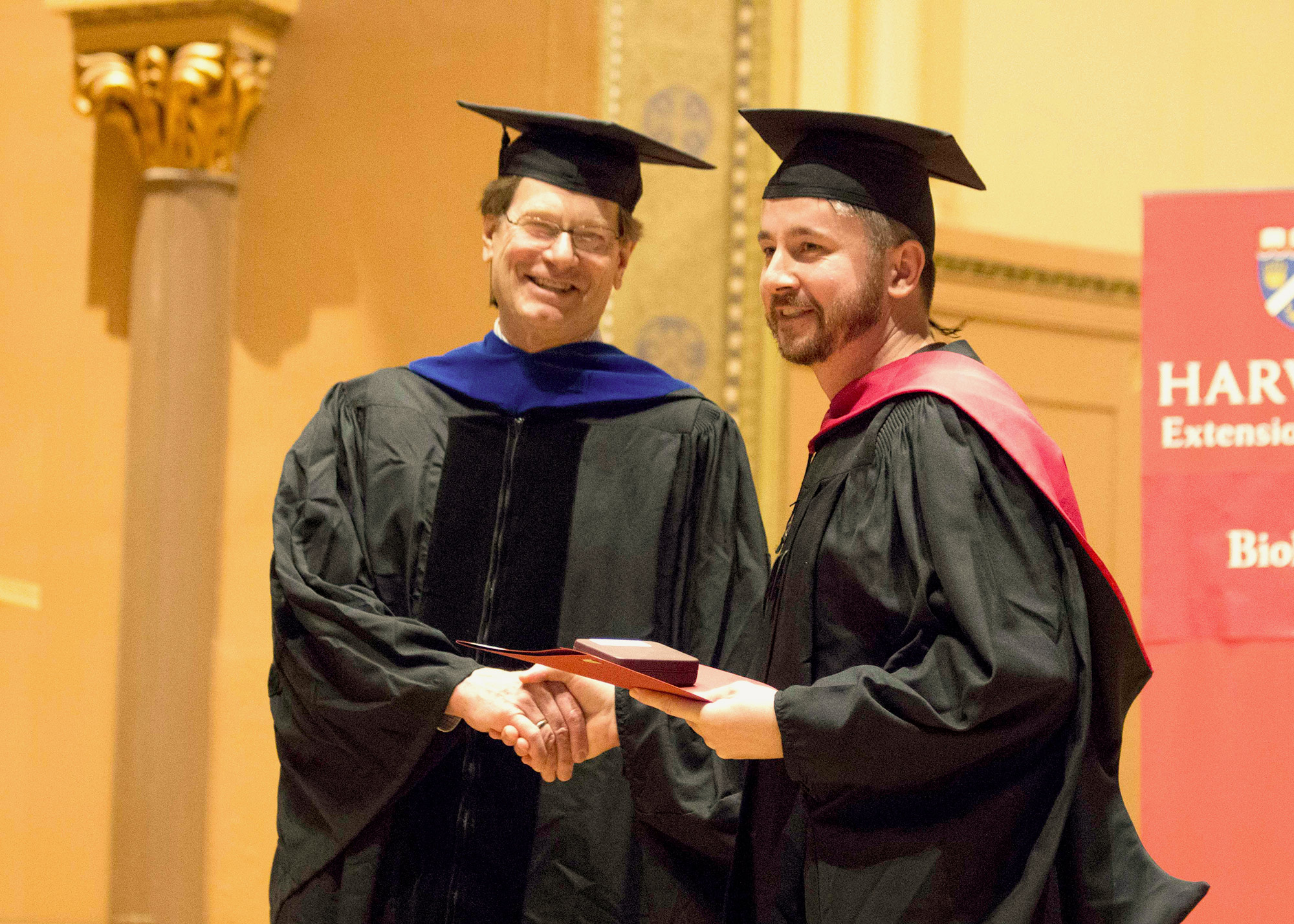 In summer 2016, Bauer asked Algramo if he could develop a sustainability action plan for the startup. The plan would serve as his master's capstone project. "I wanted to work with a company that I felt was doing something really positive and had potential to make the world a better place. And these guys have huge potential and huge scope," he says.
Bauer's sustainability action plan addresses three areas of Algramo's supply chain—sourcing, inventory management, and delivery—by leveraging existing technology. For instance, WRI's platform provides Algramo with projection data, so they can choose to source products from low-stress water regions. The process ensures a steady supply chain in the future while avoiding impact on critical water resources.
To efficiently manage the inventory of Algramo's vending machines, he advises the use of a Particle Electron card. Plug this small Internet of Things (IoT) device into Algramo's machines, and it will provide real-time updates to a cloud database each time a customer purchases a product.
With this detailed data, the company can more accurately project the needed supply (lowering their impact on their supply sources) and avoid making unnecessary deliveries (reducing carbon emissions).
The card also turns the vending machines into wi-fi hotspots, providing an internet connection to neighborhoods that would otherwise have no means of access. Considering Algramo has more than 1,200 stores in its arsenal, this tiny card could have a giant effect.
Optimizing and Integrating Systems
Bauer takes the idea even further. "This little piece of technology can relate to the bigger picture through an application called Waze SDK [software development kit]," he says. "It allows people to build Waze into their own applications, so that you can basically have the intelligence of Waze for making deliveries."
Take this scenario: A particular delivery person has a set route that takes him from store one through to store four, with equal supply for each location.
With data from the Particle Electron card, the delivery person will now know that he doesn't need to visit stores two and four because their inventory levels are adequate—saving unnecessary travel time and extra haul.
And with Waze SDK, the delivery person will receive an optimized route to the remaining stores, using the least amount of fuel and arriving in the fastest time based on real-time traffic conditions.
The third link is connecting inventory management to the producers—lentil farmers in Canada, for example. In a single system, you can receive alerts when supplies are being delivered to you, and how long until they arrive. Then, based on current sales and intelligent system knowledge, you'll know exactly when and how much you need to order from various parts of the world.
"It's an extremely sophisticated way to manage your inventory—using big data and integrating systems to make optimal business decisions," Bauer says. "And these companies did the heavy lifting. It's just making the connections."
From Student to Sustainability Manager
During his time in the Sustainability program, Bauer was connecting much more than new technologies. Among the most memorable aspects of his time at Harvard Extension School was exchanging ideas in a classroom filled with diverse professionals from around the world.
"I've met a lot of really accomplished people from the sustainability world in this program. I've had classes with the head of sustainability for JetBlue, an economist for the World Bank, and the director of sustainability for Australia," Bauer says. "There are professionals from all over the world, so you get a really global perspective. Very few programs can offer that."
Bauer should count himself among the accomplished. His comprehensive research and innovative sustainability action plan won the 2017 Dean's Prize for Outstanding Sustainability Capstone.
William O'Brien, instructor of Bauer's capstone course, nominated him for the prize. "Brian Bauer was the ideal student—totally committed to learning and making a difference," he says. "His work was distinguished by the quality of research, leveraging of expertise, as well as the creative, innovative and actionable solutions. The impact of his sustainability action plan was and will be truly extraordinary."
His contributions at Algramo have been considerable. Following his presentation to the company in August 2016, the startup offered him a job as their sustainability manager. In the role he has helped the company conduct sustainability research, apply for grants, and develop strategies for attracting global investors.
He also translated his sustainability plan into action. Based on concepts from his master's capstone, he developed a grant proposal, which he then presented to the jury of Expo 2020—a world exposition focused on the themes of sustainability, mobility, and opportunity. Under Bauer's recommendation, Algramo also joined the United Nations Global Compact, the world's largest voluntary corporate sustainability initiative.
In April 2017, Expo 2020 awarded Algramo a $800,000 grant with tier one funding of $100,000, providing them with the funding to implement IoT-connected vending machines and wireless mesh networks (for large-scale internet access). If tier one funds are utilized effectively and the company receives tier two funding of $500,000, Bauer will have landed Algramo its largest and most successful grant to date.
Salvador Achondo, co-founder and director of Algramo, says, "Brian's deep understanding of sustainability and technology were instrumental in winning Algramo this major grant from Expo 2020. These funds will be pivotal in helping to fund many of the ideas from Brian's capstone research and help improve Algramo's ability to expand its scope and impact across Latin America."
With his Harvard Extension School master's degree in hand, Bauer is excited to continue applying his sustainability education to influence positive change in the world.
"I'm providing valuable advice and strategy to a company that has the potential to greatly benefit millions of people throughout Latin America," Bauer says. "To be able to apply my sustainability education with an innovative and impactful business like Algramo is truly an amazing opportunity."
Written by Antoinette Hocbo