Going back to school to earn a degree or certificate is an exciting time. You get to build expertise and make new professional contacts, even friends. Not to mention, your recently acquired skills open the door to an array of new job prospects.
If you're happy in your current organization, new opportunities may be closer than you think. With some strategic thinking and plenty of communication, internal mobility may be the ideal solution.
Moving up—or over—in a company lets you flex your mental muscles and take on new responsibilities in a familiar environment. Maintaining seniority, relationships, and a sense of community are also great perks.
In some situations, however, applying for jobs internally can present some issues. Obstacles like an inflexible manager or a stagnant company culture tend to get in the way of those wanting to move up the ranks.
Kathy Baron, vice president of consulting firm Pearl Meyer and former director of Workforce Planning and Talent mobility at Harvard University, has some tips for students and recent graduates on how to leverage new skills for internal mobility.
In this post, we'll summarize her points for students and graduates aiming for a promotion or internal transfer.
Earning a Degree or Certificate for Career Mobility
When immersed in a program, you spend countless hours on your development and likely make sacrifices in doing so. Once finished, you've proven yourself to be self-motivated, diligent, and passionate about what you do.
After all that hard work, how do you see yourself? According to Baron, the first step to leveraging your new skills is updating your self perception.
It helps to picture yourself in a role that utilizes your new skills. Searching for open or existing roles within your organization that align with your goals is an important first step toward a move.
If you want others to view you a certain way, that starts with believing it yourself. Stay aware of your internal dialogue and correct yourself if you start slipping back into old mindsets. Be your own champion, first and foremost.
It helps to picture yourself in a role that utilizes your new skills. Searching for open or existing roles within your organization that align with your goals is an important first step toward a move.
In some cases, that move will entail a raise and a promotion. In other cases, it may mean a pay cut. If you're pivoting to an entirely new field, be prepared to take a more junior position than your current.
"Sometimes you'll have to take a little step back to take a big leap forward," says Baron.
For those who are making a major change, be sure to highlight how your past roles and education will benefit you in your next role. Even if you're new to the field, you're still bringing with you a range of experience that other applicants may lack.
Remember that you don't have to go it alone. Tap those who are invested in your professional development to help you get the job you want.
Finding Your Champion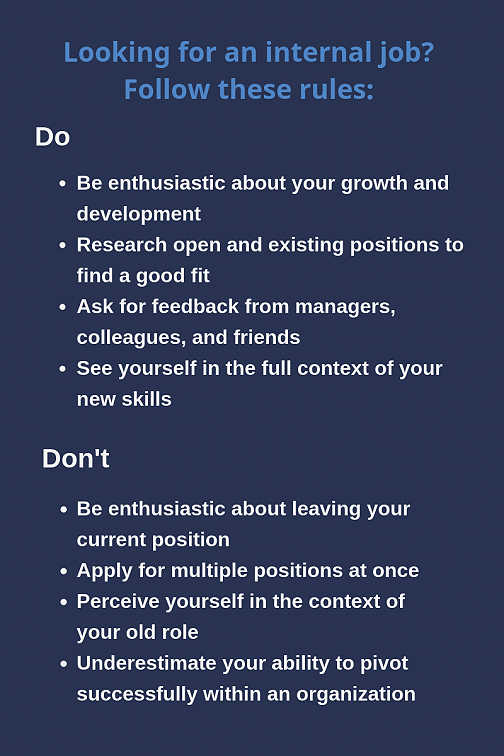 If you're looking to make a move within your organization, it helps to have your direct manager advocating for you. This begins with an honest conversation about your goals and development.
When talking to your manager about moving into a new role, frame the conversation around how you can contribute to the organization on a bigger scale or in a different way. The dialogue should remain positive and focused on mutual benefits.
"Staying optimistic and having that honest conversation, it's a win-win for both of you," says Baron.
Avoid expressing discontent with your current role or letting performance slip while you're job searching. These actions can hinder your chances of moving up.
Also, during these talks with your manager, remember to ask for feedback. Try to understand how they perceive you. Note any gaps between that and how you perceive yourself.
Feedback can reveal areas for improvement, as well as strengths to highlight on a résumé or during an interview. It also helps you determine the accuracy of your self-perception.
Of course, not all managers will be receptive to change. Maybe they don't want to lose you in your current role, or maybe they're just not going to be the champion you need them to be.
If you can't count on leveraging your manager for internal mobility, it's time to look beyond them. School advisors, colleagues, former managers, a trusted HR rep, or even a friend in your industry can all be great coaches as you navigate your way toward a more suitable role.
Leveraging Your Network
Your network is critical as you consider your next move. Companies that hire internally often have people in mind before the job posting even goes public.
Letting friends and colleagues know you're looking can put you top of mind when a new role opens up. Having those eyes and ears spread around your organization could be the key move that gets you your next job.
"[Your colleagues] know you, and they know what's happening outside your department," says Baron.
As with your manager, these conversations should center around how you hope to contribute. Avoid any negative discussion around your current role, your supervisor, or your colleagues.
If your network isn't as robust as you'd like it to be, try expanding it. Joining clubs or committees within your company is a great way to build a network. Attending company parties or events also increases your visibility. Or maybe it's just a matter of joining colleagues for lunch or a post-work jog.
By leveraging your skills and your support system, you have all the tools you need to make a successful transition in your organization.