Keeping her goals in focus
In the fall of 2017, Rawan Alhawamdeh stepped onto Harvard's campus with a vision for improving the lives of children with autism spectrum disorder (ASD), attention deficit hyperactivity disorder (ADHD), and giftedness (which may bring with it social struggle as well as academic advantage).
When Alhawamdeh graduates from the Division of Continuing Education (DCE) with a master of liberal arts degree in psychology, she will receive a diploma to match her already-extensive resume. She established Genomics, possibly the first epigenetics-based play center in the world, and two companies, Sensory Middle East (SENSORYME) and Mind, Brain, Behavior Middle East (MBBME), all while completing her capstone project and working as an occupational therapist.
"I am so grateful for the flexibility Harvard gave me to study and work at the same time. It helped me to inform my work with evidence and to create physical spaces and therapy approaches that are usable for other therapists, in order to help more children globally," Alhawamdeh said.
For her DCE capstone project, Alhawamdeh researched and developed an evidence-based-therapy approach to treating ASD, ADHD, and giftedness and an accompanying mobile app she calls iConcentrate. Her therapy program enables children to engage in eye contact, be attentive to other people, control hyperactive behavior, and better understand emotions, and often produces reduced symptoms within six to eight weeks.
"iConcentrate includes assessments, therapy stages, and technology that tracks children's eye movements, attention, and brain processing speed. The therapy is interactive, and it uses non-invasive approaches that combine play with the technology in order to help with eye contact and focus," she said.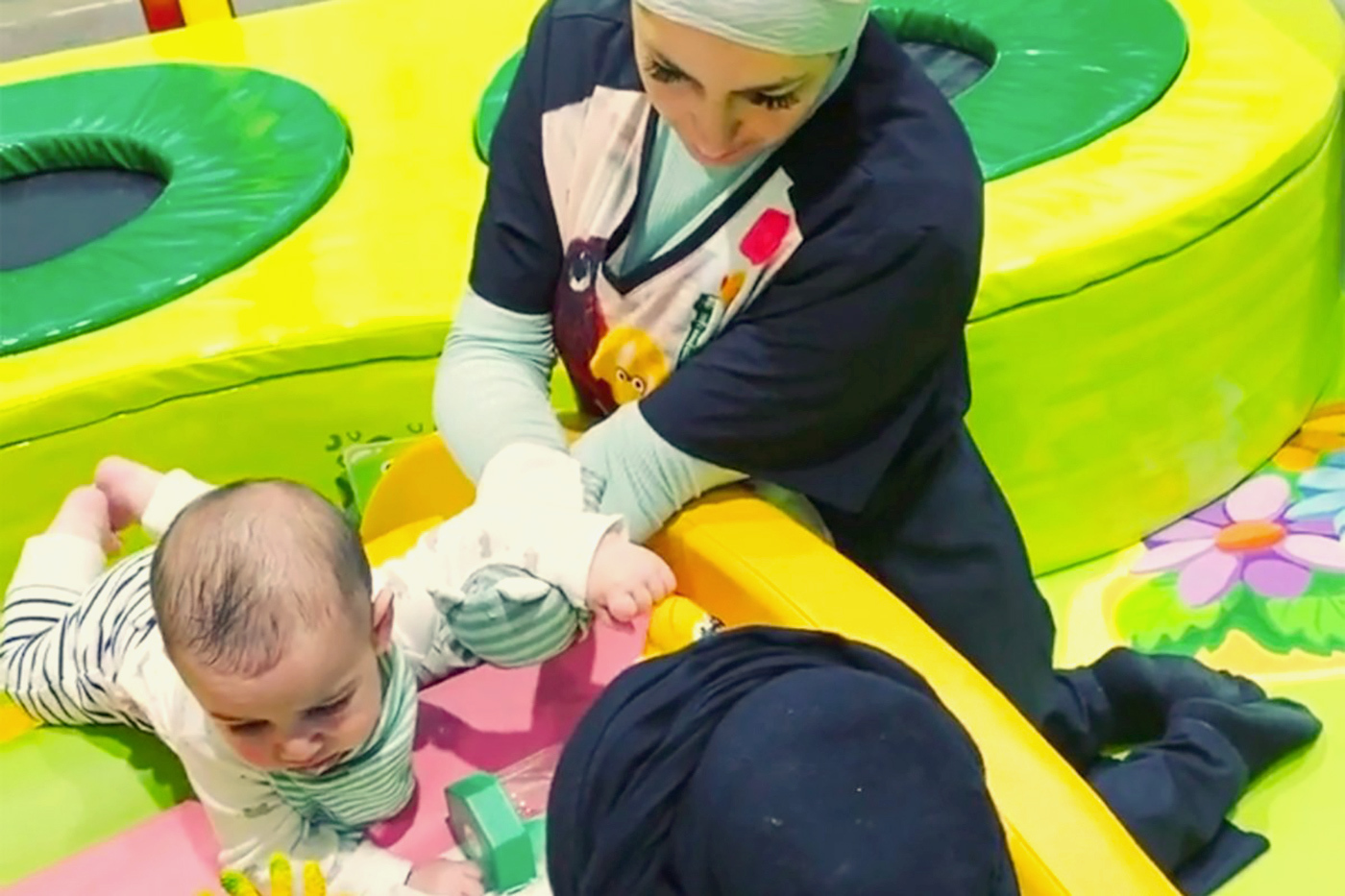 While studying at Harvard and working in the United Arab Emirates and Bahrain, Alhawamdeh's daily schedule has not been easy. At 8 a.m., she begins her workday, where she treats children who range in age from infancy to 15 years old. After a full day, she begins studying for her courses at the DCE, and, at 1 a.m., she finally attends lectures.
"When I see the children really improving, the work feels so rewarding, and my academic schedule feels worth it. It feels like I have saved a person from not being able to fully use the world we live in," Alhawamdeh said.
Because of her untraditional schedule, Alhawamdeh spent her last three years at Harvard developing crucial study habits, and now finds herself able to study almost anywhere, at any time. In her free moments, Alhawamdeh enjoys designing colorful party dresses and scarves for women.
She said she has been motivated not only by her patients, siblings, and husband, Mohammed Aladas, but also by a constant awareness of her parents. After losing her mother to cancer just before arriving at Harvard, and, more recently, her father, who passed away from COVID-19, Alhawamdeh feels their spiritual presence in her life.
"When I was a child, I always played with my father's medical books and his stethoscope, as he was a surgeon. He had a deep love of study and had always wanted to pursue graduate education, so my academic journey really is a part of his dream. My mother, when she had cancer, was constantly helping others — a trait that I now try to bring to my work with children," Alhawamdeh said. "I am grateful for the time I had with them, and I know they are watching me now, proud."
Alhawamdeh hopes to pursue a Ph.D. in clinical psychology to continue building her eye-contact and attention-focused-therapy approach, to share her approach with other therapists, and to build more play centers.
"The human mind is unlimited. I see this in my work as an occupational therapist, but also within my own learning. The more you challenge your brain, the more you can produce," Alhawamdeh said. "I took these lessons with me to Harvard, and I will take them with me as I continue on."
Written by Samantha Sarafin '21.
This story first appeared in the Harvard Gazette.