In October 2021, Harvard Extension School (HES) conducted a survey to assess student satisfaction with the online learning experience. The Priorities Survey for Online Learners (PSOL), administered by Ruffalo Noel Levitz, provides insights into institutional strengths and challenges in five key areas: academic services, enrollment services, institutional perceptions, instructional services, and student services.
The main goal of the survey was to illuminate how HES student satisfaction compares to benchmarks of peer institutions.
The PSOL was sent to 9,170 HES students. Of that number, 2,073 students completed the survey, which resulted in a 23% response rate.
Respondents were asked to indicate a level of importance and satisfaction for 36 statements, including 10 customized for HES.
HES Exceeded National Benchmarks on PSOL Overall Student Experience Questions
Satisfaction with the overall student experience is high, with HES satisfaction exceeding national benchmarks for ratings on the following statements:
Institution has met expectations
Satisfaction with the experience here thus far
All in all, if you had to do it all over again, you would enroll here
HES Exceeded National Benchmarks on the Following PSOL Detail Questions
Students attributed prominent levels of importance (6.4 or higher on 7-point scale) and satisfaction to the following items. The satisfaction ratings exceed national benchmarks.
The quality of the online instruction 
Instruction materials are appropriate for the program content 
Program requirements are clear and reasonable 
Student assignments are clearly defined in the syllabus 
Faculty are responsive to student needs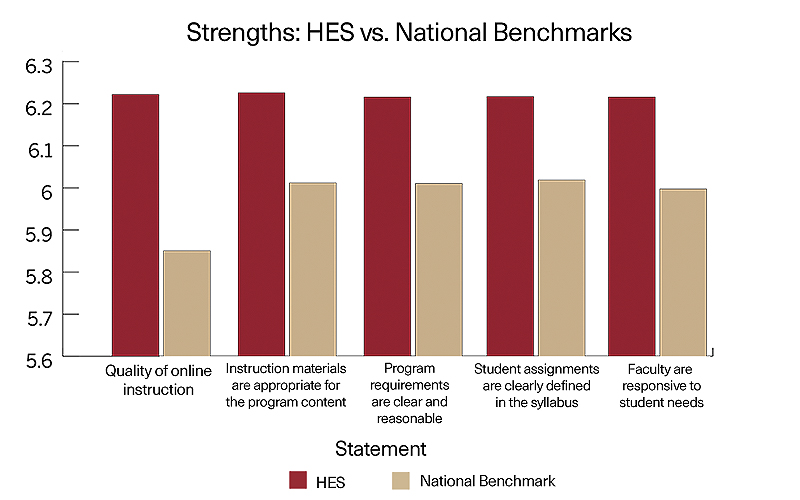 HES Met National Benchmarks on the Following PSOL Detail Questions
Satisfaction ratings for the following were at or slightly above national benchmarks.
Billing and payment procedures are convenient for me
The frequency of student and instructor interactions is adequate
Assessment and evaluation procedures are clear and reasonable
Institution responds quickly when I request information
Faculty provide timely feedback about student progress
Student-to-student collaborations are valuable to me
Tuition paid is a worthwhile investment
HES Custom Questions
Of the 10 custom survey statements specific to the Extension School, students indicated a strong level of satisfaction (6 or higher out of 7-point scale) with the following seven items that were also rated important to them.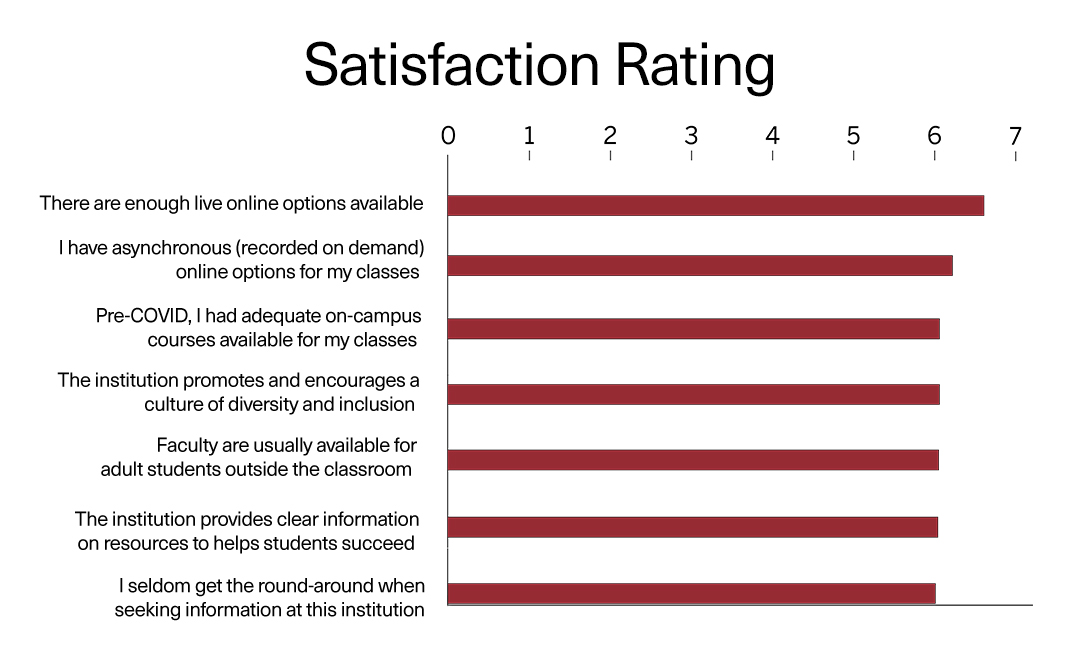 Areas for Improvement from PSOL National Benchmark Questions
We're proud that we've been meeting and exceeding your expectations in many areas. We acknowledge a few areas where there is room for improvement.
The convenience of online course registration
The sufficiency of offerings within programs of study
The timeliness of bookstore services
The availability of tutoring services for online courses
Clear contact information for questions about programs and services
The availability of channels for timely responses to student complaints
The convenience of class times
The opportunities to network and be part of the Harvard Extension community outside the classroom
Next Steps
The PSOL provided valuable insights into what is most important to HES students and where we can make improvements. We are investigating all the areas where there are opportunities to improve based on your feedback.
Addressing Areas for Improvement
Below we outline the ways we are prioritizing the areas that were found to have lower levels of satisfaction.
Registration for online courses is convenient. 
Our prior registration system had performance issues that needed correction, particularly in terms of handling high-volume capacity. Students often had significant wait times or were timed out of the registration process, which created a frustrating experience.  
We spent the last two years identifying a new mobile-first registration platform, developing the product to fit our needs, and testing it to ensure it works. In fall 2021, after the PSOL survey was deployed, we launched DCE Course Search and Registration, which dramatically improved the registration experience by: 
Increasing processing speed.

 

Integrating the course search with the registration process.

 

Offering the option to add courses to one's cart before registration opens.
We are still in the early rollout phases and will continue to monitor student satisfaction. The goal is to make ongoing improvements to provide a more convenient and intuitive registration experience for our global adult learner.  
There are sufficient offerings within my program of study.
HES ordinarily offers over 700 unique courses and 1,000 sections. Our course offerings are the most diverse of all major continuing education programs in the country. But we may be missing important learning opportunities to support your academic and professional aspirations.  
Suzanne Spreadbury, dean of academic programs, will follow-up with a more detailed survey for degree program candidates to better understand what is missing from the course curriculum.  
Tutoring services are readily available for online courses.
At the Writing Center, appointments are booked as soon as they open. Demand for the service has increased during COVID and our move to a virtual center.
We are working with the director of the Writing Center and the director of the Writing Programs to reimagine the center for the 21st-century online learner. We will begin by increasing tutoring support each year for the next three years.   
I'm aware of who to contact for questions about programs and services.   
We understand. It's not easy to find our contact information. We've corrected that by adding contact information for our talented Enrollment Services (ES) team to multiple webpages.
Our ES team is available Monday through Friday, 9 am to 5 pm ET. We believe that a centralized team dedicated to answering your questions provides a better student service than sending you to a variety of different offices. Why? Because ES might be able to answer your questions without the need to speak to another office. ES can also share with the leadership team the volume of calls on topics so we can solve problems upstream.   
Channels are available for providing timely responses to student complaints.
It is our policy to reply to all concerns as soon as possible to support students. We know that learners require rapid responses to evaluate decisions with personal and academic implications.
We do not get many complaints. But when we do, they come from various offices and departments. We will work to find a more centralized way for students to share their concerns.
We are also working to create more immediate engagement opportunities through the recently launched MyDCE portal, where students can easily share their experience with us.
Most complaints are opportunities to learn about your experience and for us to share the reasoning behind our academic policies.   
Classes are scheduled at convenient times. 
We are actively working to improve class time options and accessibility for our international students who add such value to the HES learning experience. We want to improve in this area while staying true to our mission of live classroom engagement and human learning done online.  
We have added more on-demand classes, such as a new web-conference format with flexible attendance. This has helped address time-zone differences, offering students the ability to attend live when their schedule allows.

We have also experimented with daytime classes. Although demand has been low in day courses, we will continue to experiment.

We have required more live sections at different time zones to support online-only courses.
I have opportunities to network and/or be part of the HES community outside of classes.  
COVID has made this more difficult than ever. We look forward to our return to campus this summer and our return to networking and community building both online and on campus. We are committed to exploring ways to increase connections between students
This includes engaging activities such as lunches with the dean, networking events, convocation, on-campus receptions, global ambassador meet-ups, and on-campus residency experiences. We hope to bring you more events that enhance the student experience while promoting a strong sense of belonging for a dynamic and global student community. 
Qualitative Questions
We are still analyzing the qualitative feedback that included over 2,000 narrative responses. A big thanks to all who took the time to share your stories in detail. The data is amazing and thought-provoking.
Positive Feedback
The positive feedback was overwhelming and sincerely heartwarming to the team at HES. We would love to share all the joyous comments with you, but here are a just a few representative samples:
"I am a devoted fan of the Extension School, it's an impressive and innovative institution. The quality of the courses and faculty is excellent, the wonderful diversity of the students adds an extra dimension to the learning experience, and the Extension School has been a strong innovator in on-line learning. I truly appreciate the flexibility of the on-line learning component and the richness of the course offerings. "
"I am a Harvard Extension Super Fan. I entered the ALB degree program with 16 credits of CLEP credit and zero college experience … Coming to Harvard all these years later as a degree candidate, taking classes with professors who opened new worlds for me, making friends with peers in on-campus weekends–these are gifts I never imagined I would experience in life. To say it has been healing and transformative in my life as a single mom is a massive understatement. My time here at Harvard has given me back a piece of myself I thought was lost forever. Harvard gave me back that brainy, motivated academician I was so long ago. I share all of this because I want you to understand how important Harvard is to me—and not just to me. So many of my peers have similar stories: we were Smart Kids Interrupted."
"I cannot stress enough how happy I am to be part of HES! Studying at HES exceeded my already high expectation. I really feel that I get to study with the best professors around alongside getting to know phenomenal classmates. The courses are extremely interesting and intriguing, and I wish I could afford to stay forever at HES!"
Constructive Feedback
The constructive feedback varied widely, but two big themes emerged
Enforcement of Prerequisites
One benefit of open enrollment is that students with years of work experience in a field can join a higher-level course without the specific prior college-course prerequisite. But it has its drawbacks as instructors feel the need to bring everyone up to speed at the onset of courses. Some of you suggested degree-candidate-only courses to ensure that all students in specific courses have prior coursework in the field. Others suggested field-specific pathways that meet your skills and goals. We are on it. Since early January, a small group of HES staff have been looking at our suggested (versus required) prerequisite policy. Stay tuned for some interesting changes on this front.
Degree Name
Many of you shared your concern over the degree name and expressed a desire for (1) removing "in Extension Studies" from the degree and (2) adding the field of study to the degree (e.g., software engineering or history).   
Removing the "in Extension Studies" from the degree name is a long-standing concern and one that we are not surprised to hear echoed in the survey. We all care about this issue, particularly Dean Coleman.
"As Dean, I want to ensure that we have a degree name that is academically correct and accurately represents the interdisciplinary learning as well as high academic achievement of our post-traditional degree candidates. As a unique entity within Harvard, our degree name must be distinctive, yet recognizable to future employers and in line with our peer institutions. A degree name is a once-in-a-century decision. The request must be fully informed with eye toward the future." 
In terms of the second request, it is unlikely that this will be an option in the future. Harvard Extension School is part of the Faculty of Arts and Science (FAS), and all FAS master's degree diplomas are printed in Latin and fields are not displayed. Fields of study, cumulative GPAs, certificates, prizes, and academic awards appear on one's Harvard transcript.  But we will keep this student request in the foremost of our minds as we navigate this critical decision.