This past summer, the Harvard Division of Continuing Education (DCE) started a new chapter with the hiring of Dean Nancy Coleman, a veteran in distance education and higher education.
Leading the division into the future is a significant role: DCE encompasses Harvard Extension School, Harvard Summer School, the Professional Development Programs, and the Institute for Learning in Retirement.
Her experience includes strategic growth planning at Wellesley College and leading online education teams at Boston University (BU). In addition, she was an adult part-time learner herself, earning an MBA from BU's Questrom School of Business and a doctorate in education from The George Washington University.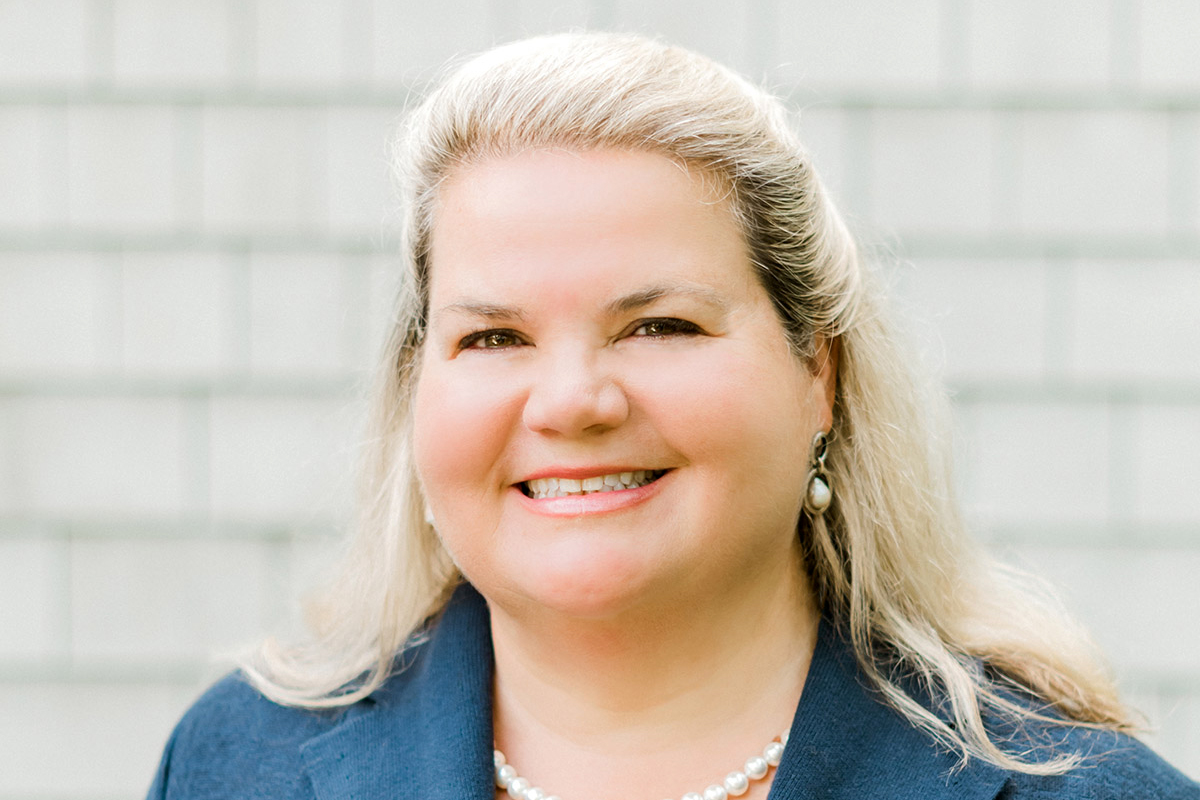 "This position really takes elements of things that I've done in other places on a much smaller scale and puts them together under one very compelling umbrella," said Dean Coleman. "I really view this [deanship] as the capstone project of my career and am really excited to be here."
We recently spoke with Dean Coleman about what brought her here, her initial thoughts for the future of DCE, and how the division may evolve to meet the ever-changing needs of the lifelong learner.
What drew you to DCE?
I'm from the Boston area, so I've always been familiar with Harvard and Harvard Extension School. Having spent the past 10 to 15 years of my career in higher education really brought Harvard's programs into focus for me. There's no way you can work in continuing education and not be aware of the important work that Harvard has done supporting adult learners, and modeling the way for other institutions.
When I saw the scope and responsibilities of the Dean position, it just looked like a perfect fit for my background and interests. I'm very fortunate that Harvard leadership thought so too. So here I am. DCE has already done so much groundbreaking work that there is an excellent foundation to build on. I'm excited about what that next chapter will be.
You earned your master's and doctorate as an adult part-time learner. What insights did these experiences give you on how continuing education needs to evolve?
We need to be intentional in our focus on adult part-time learners. Continuing education serves a different set of learners that are no less qualified for study but that have different needs for support.
I specifically use the word intentional because we need to think about the types of support and pedagogy that goes into a continuing education program for adults that acknowledges and respects the fact that these learners have other parallel commitments in their lives.
The question is: How do we thoughtfully design programs that respect this difference but also acknowledge more broadly that a part-time adult program is just as rigorous and quality focused as a full-time residential program?
You have been at Harvard for a few months now. What has surprised you most about the students who choose DCE to continue their studies, either in the Summer School, Extension School, Professional Development Programs, or the Institute for Learning in Retirement?
Inspired is a good word for it! Initially, I was struck by the absolute sense of community and identity across all members of our DCE community, and just how happy people are to be part of our ecosystem.
After the Harvard Gazette article was published announcing my appointment as dean, I received more than 100 congratulatory messages from students, alumni, and staff, expressing how enthusiastic they were for my arrival and letting me know how wonderful a place Harvard is to be a part of.
Seeing the passion and commitment across DCE's learning spectrum, from students, staff, and instructors, has been quite exhilarating. And the fact that we have built such a strong community that supports members long after they have received their degree or educational credential is a testament to the work we are doing.
As a result of the COVID-19 pandemic, many of our students can't come to campus and all are learning completely online. What did we learn from the rapid and complete pivot to online that you see helping to shape DCE into the future?
We've learned that each of our students have different needs and that those needs must be met in unique ways. We have always recognized that support structures and access to learning opportunities are vastly different from one learner to the next.
What we are now doing is thinking more deeply about our design model and being very intentional about how we support our students remotely. It has made us think through what services we can offer to support the academic experience, and how we can build a space that is both welcoming and safe for learners.
What's your biggest priority in the coming year? Next five years?
The need to continue to innovate, support, and build programs for students at a distance is certainly one of my top priorities. I believe it's critical to our success. For example, we are looking at how to better serve students in other time zones who cannot easily participate in our programs in real time, so we want to bolster our instructional methods and support for those particular student groups.
I also see our Professional Development Programs as a great opportunity for growth as the market shifts for learners who are looking for shorter, highly focused learning programs. Along with the credentials we offer through the Extension School, I see us meeting the demand from learners to gain more credentials and learning experiences that can be completed in shorter timeframes.
What role do you see DCE playing as jobs and industries worldwide evolve due to technology and the public health crisis?
DCE will play a valuable role in building programs that support students throughout their 60-year career horizon. Current and future workers face not only changing jobs requiring new and emerging skill sets, but also multiple careers as some occupations disappear and others appear, seemingly overnight. These changes are driven by some of the major forces in our society today such as technology and the public health crisis, but also by globalization, environmental crises, as well as political and economic instability.
In response to this rate of change, I believe our role must be long term capacity building—enhancing student's skills for a lifetime of creativity and agility, as well as short term, just-in-time preparation. As the world evolves, so should we, and I believe there is ample opportunity for DCE to build upon this concept to advance a learner's lifelong journey. We want to help curate that path for our learners, and it is important that we build the pathways for students.
At DCE, we have developed a number of program areas focused on learner needs at different phases of life. Some are tied to age, like pre-college or retirement programs, while others are not age-bound. We're currently working to make sure that our program options offer opportunities for a variety of learner types, no matter what they need.
We need to look at the trends that are emerging and build programs that will educate students in emerging areas— areas which may not exist now but will five years into the future. A key question that will need to be answered is how can we prepare students for job opportunities that do not exist yet? Anticipating that need and being agile enough to pivot to meet that demand will be critical.
What do you think are some of the biggest misconceptions people have about DCE, and what actions are needed to combat them? (For instance, Some people have been heard to say that the Extension School isn't "the real" Harvard. How would you respond to that?)
DCE is absolutely the 'real Harvard'! If you take a look across the Harvard spectrum of educational opportunities, there are different schools aimed at different sets of learners.
For simplicity's sake, we can say that the Law School is aimed at students who want to study law and the Business School is aimed at people who want to study business. For me, Harvard Extension School is not positioned to focus narrowly on a specific subject. Rather we want to focus on educating specific student groups.
We know that there are people out there who want to come to Harvard and who are academically driven to do the work, but because of location or other life circumstance cannot come to campus full time or be here residentially. There is a strong need for part-time adult learning, and DCE is thrilled to be able to extend the resources of Harvard to this group.
Make no mistake that the Extension degrees are Harvard degrees and the diploma recognizes that distinction. I do acknowledge that the degree names may be unconventional (and perhaps dated). To that end, I think it's time to explore the degree names and what they really mean, and to review how we can have a modern degree name that reflects a modern world.
What's your long-term vision for DCE?
My long-term vision is to keep extending and broadening the access mission of Harvard and to make available the educational opportunities and resources of the University to learners in all phases of their educational journey. It is core to our mission here at DCE, and I looking forward to advancing that mission.